When forward-thinking communities dream big, there's no limit to what they can accomplish. VHB is helping the City of Altamonte Springs, Florida (population 45,500), elevate sustainability and transportation technology to improve mobility for residents and visitors—and electric autonomous vehicle (AV) shuttles are an important part of their plan. VHB partnered with the future-focused city to plan and design a new Multimodal Flexible Pathway to accommodate an AV shuttle, micro mobility, pedestrians, and cyclists as part of a broad network of critical community connections that elevate opportunity for residents, visitors, and workers.
As a mixed-use urban core within a suburban environment, including heavily travelled Interstate 4, Altamonte Springs is no stranger to progressive transportation initiatives. The construction of the Altamonte Multimodal Flexible Pathway is a major step in the city's overall plan to improve mobility-as-a-service, which recently included piloting an inter-city rideshare discount with Uber. The new Flex Path coupled with the AV shuttle pilot program reflect technology-enhanced, smart community foundational elements like sustainability, resiliency, interconnectedness, and people-focused.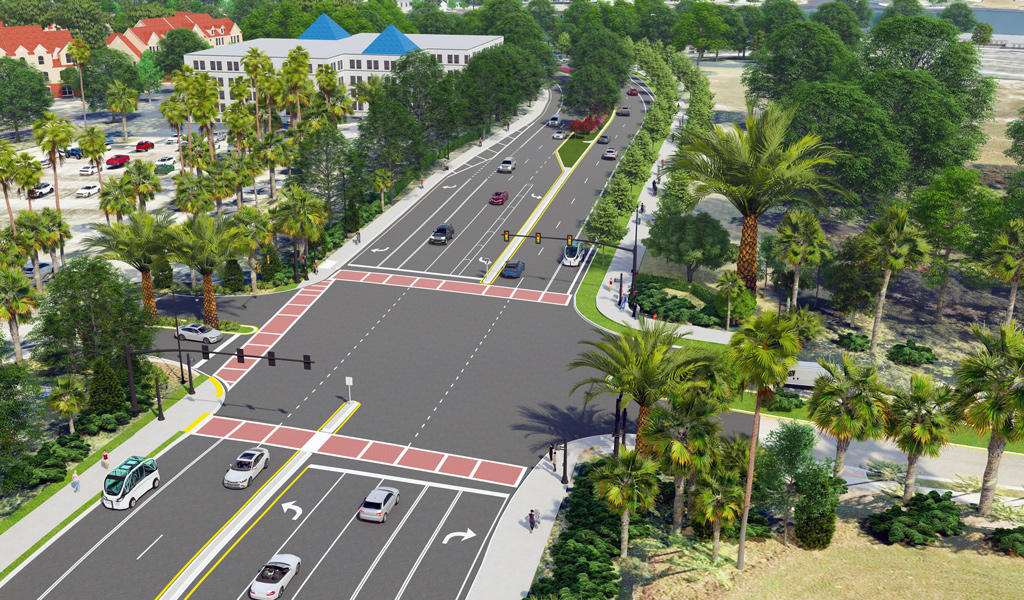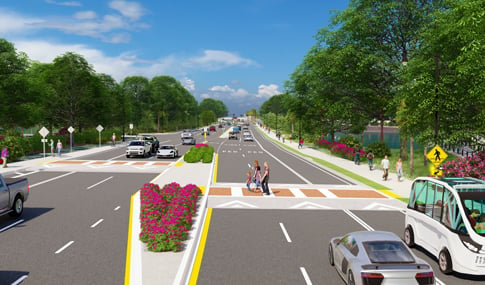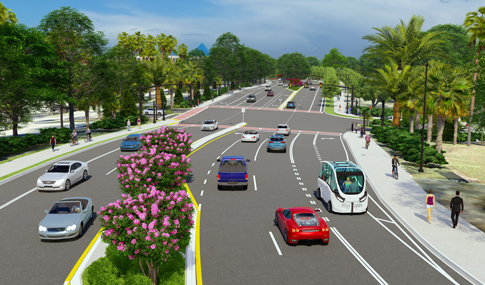 A Holistic Approach to AV Connectivity
VHB's integrated team of transportation and civil engineers, urban planners, and landscape architects worked closely with city leaders on all facets of planning and design for the project, including advising on key design elements of AV infrastructure; traffic, safety, and environmental concerns for incorporating AV infrastructure into recreational pathways; and best practices for community and municipal stakeholder engagement throughout the process.
When complete, the Altamonte Springs Flex Path will provide connections from Center Point Circle and Uptown Altamonte to the city's SunRail station—popular with commuters. The project will also improve connectivity to the Seminole Wekiva Trail, Altamonte Mall, Florida Hospital, and City Hall, and will elevate active transportation opportunities like bike and scooter share. In July 2022 the City announced a partnership with Beep to operate the shuttle service.
"It's been a great partnership of pushing boundaries and spurring innovation," said Ryan Fetchko, Transportation Technology Engineer with VHB. "Altamonte Springs is a forward-thinking city and that's reflected in the way they invest in technology to address resiliency. The Flex Path project demonstrates how technology is also a critical part of placemaking and attracting new business, visitors, and residents."
VHB can provide an end-to-end solution for clients looking to implement AV technologies into their communities. From stakeholder engagement and regulatory insight that speeds National Highway Transportation Safety Administration (NHTSA) review to traffic studies and civil engineering, a holistic and integrated approach makes a difference.
AV Flex Path Components
The Flex Path involves two side-by-side multimodal paths—one for vehicles that can operate 15-20 miles per hour like shuttles, bicycles or scooters, and a separate path for pedestrians or families with children.
Autonomous vehicle run-times depend on several factors, such as number of stops and passenger load, but could typically average stops every 20 minutes. As better technologies advance, run times extend. Autonomous vehicles operate using LiDar, radar and GPS technologies and can include ambassadors in the vehicle to assist with vehicle control, but most do run autonomously and include touch screen interface controls for riders.
Technology-enabled transit options like AV flex paths allow communities to enhance transportation within constrained spaces, supporting smart growth and on-demand services. A community like Altamonte Springs that straddles heavily trafficked I-4 can utilize flex paths to offer access to regional corridors through Orange and Seminole Counties.
"It's a path to our future," said Frank Martz, Altamonte Springs City Manager. "This is a first-mile/last-mile micro mobility solution that increases utilization opportunities to critical community touchpoints like healthcare, employers, and entertainment."
VHB is at the forefront of AV innovation in Florida. Additional projects involved helping Florida Department of Transportation (FDOT) District 1 develop AV/CV Shuttle Implementation Guidance to identify locations where an AV shuttle program would enhance or supplement mobility options for its users. VHB is also a member of the Central Florida Autonomous Vehicle Partnership, a consortium of public and private industries working together to support research and innovation in AV. For more information contact Ryan Fetchko.