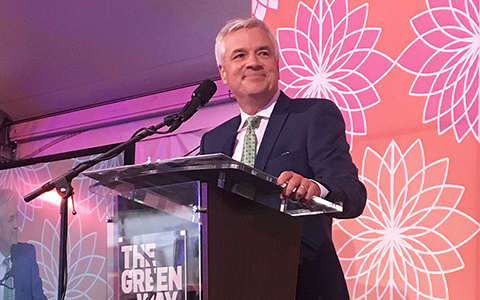 ​On June 7, twenty VHBers gathered together with 350+ generous supporters for an evening under the stars celebrating Boston's premier public park—the Rose Kennedy Greenway. Together, the attendees raised in excess of $500,000. President & CEO Mike Carragher co-chaired the 10th Annual Greenway Gala along with Jay Hooley, CEO of State Street Corp. This year's Gala honored legendary investor Peter Lynch of The Lynch Foundation
"VHB is proud to be a long-time supporter of this great urban space and The Greenway's mission to give back to Boston communities," said Mike. "I was fortunate to be part of the early stages of the Central Artery/Tunnel project which helped set the stage for The Greenway." Today, more than 1.4 million employees, visitors, and residents are brought together to explore the "roof garden atop a highway tunnel," and many would never imagine what it looked like prior to the 1.5 miles of lush grass, gardens sculptures, unique water features, food trucks and so much more that adorns The Greenway today.
Since VHB's founding in Boston in 1979, the firm has had the opportunity to play a critical role in the transformation of the city into the vibrant community it is today. In addition to solving numerous planning, design, and demolition elements of the Big Dig, VHB, led by John Kennedy (founding member of the firm), is most proud of having carefully orchestrated traffic operations to keep people—and the economy—moving throughout the duration of the Central Artery/Tunnel megaproject.
To learn more about The Greenway, visit www.rosekennedygreenway.org. This was the second consecutive year that Mike co-Chaired the Greenway Gala. Read Mike's blog post that The Greenway published in 2017 highlighting the importance of the park to him and VHB.