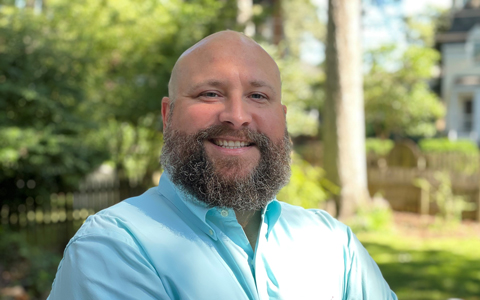 Jason Adkins has joined VHB as the Mid-Atlantic Director of Healthcare Strategy, a position that will be instrumental in helping VHB expand their growing institutional practice across the region. Prior to joining VHB, Jason worked at CBRE Healthcare, where he served as Project Management Director for their capital facility projects located across the east coast. While there, Jason developed relationships with numerous healthcare organizations, architects, construction management firms and other service providers. With significant investments in healthcare development happening across the region, Jason will help VHB advance our growing healthcare practice across our footprint.
During Jason's 15 years in the industry, he provided global oversight of real estate and facility solutions to healthcare clients, becoming a trusted partner. His extensive experience with managing processes and overseeing teams throughout a project's life cycle is represented by his track record of successful outcomes. His experience includes providing project launch phase services for the Ambulatory Care Center and Mixed-Use Development for SUNY Downstate in Brooklyn, NY; all-inclusive program and project management services for Mount Sinai South Nassau hospital in Oceanside, NY, where he worked extensively with VHB's Long Island office; and facility activation services for MedStar Health in Baltimore, MD.
"Jason's diverse experience obtained while working in real estate for hospitals and healthcare organizations makes him knowledgeable in identifying and mitigating project risks while designing a solution that provides the best patient care," said Nancy Barker, Mid-Atlantic Regional Manager at VHB. "This experience will bring a new perspective to the table as we guide healthcare agencies into the future, including integration of new technologies and more diverse service options for patients that promote healthy, equitable communities."
In his role at VHB, Jason will be responsible for managing key client relationships and coordinating and overseeing healthcare projects in the region. His initial focus areas will include setting the vision and strategy for the Mid-Atlantic healthcare practice, collaborating and generating new client relationships, leading and developing a team of healthcare professionals, and serving as Senior Project Manager on future healthcare projects. Jason is a graduate of Virginia Tech where he earned his Bachelor of Science in Building Construction.
To learn more about Jason's healthcare experience and how he can assist you on your next project, connect with Jason on LinkedIn or contact him by email at jadkins@vhb.com.