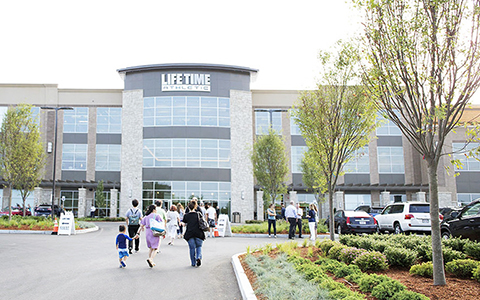 Burlington is Massachusetts' latest community to welcome a Life Time Athletic club. The new facility features an indoor and outdoor aquatics center, group exercise studios, squash courts, basketball courts, a café, full-service spa, and a Kids Academy. VHB is proud to be part of the project team celebrating this exciting milestone.
VHB has been supporting Life Time's expansion plans on the North Shore since 2015. Having previously worked with Life Time on development of their Boston MetroWest location, our team offered a great understanding of Life Time's programmatic needs and was able to streamline the site selection and permitting process to meet critical deadlines for opening.
When Life Time first became interested in a 9.4-acre site in Burlington, MA, VHB stepped in to lend a hand. The site was located within Northwest Park–an amenity rich office park that features modern office space, upscale restaurants, retail and entertainment. We provided due diligence services during their site selection process to assist Life Time with their land acquisition. With the ideal site selected, VHB worked with Life Time to secure permits. Nordblom was developing an office building adjacent to the site and as a result VHB needed to work closely with the developer and the Town to reduce logistical and construction phasing concerns. In addition to our experience at Northwest Park, VHB has been involved in many of Burlington's noteworthy developments, such as the Burlington Mall and The District Burlington. With our extensive knowledge of Burlington and relationships with Town decision makers, our team quickly gain the approvals to move this development forward.
Scott Ferguson, Development Manager at Life Time stated, "Watching Life Time Burlington come to life has been an exciting journey. We are thrilled with our new home within Northwest Park and VHB's ability to provide connectivity within the park and to the local community, including the surrounding recreational trails. With Life Time being headquartered in Minnesota, VHB's clear and reliable communication was instrumental in this development's success".
Conor Nagle, Project Manager at VHB, stated, "VHB is proud to support Life Time's mission of healthy living through the development of their Burlington location. After working so closely with Life Time and the Town of Burlington, we are thrilled to see such an amazing development added to the community."
In addition to assisting Life Time through the permitting process, VHB provided a full-range of integrated services including site/civil engineering, traffic, environmental, and landscape architecture services. VHB continues to work with Life Time, assisting in the assessment of development for future sites.