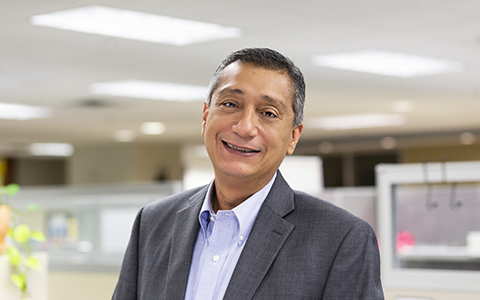 VHB's rapidly growing Applied Technologies Group recently welcomed Lou Arias as Director of Software Engineering. With nearly 30 years of experience leading the implementation, development, and distribution of scalable software infrastructure platforms, Lou is a consensus builder and program innovator. Based out of VHB's Wethersfield, CT, office, Lou's focus will be on developing short- and long-term strategies related to implementing software engineering development to meet growing market demands.
"VHB's Applied Technologies Group has experienced tremendous growth over the past several years," said Steve Anderson, Vice President of Technology Services. "Lou's keen understanding of innovations and best practices will help our team continue to evolve so that we can deliver the smartest solutions to our clients and partners."
Lou spent 20 years with the Digital Media Group at ESPN, Inc., where he led strategic direction, back-end architecture, media content, and distribution for the Digital Watch ESPN platform. Most recently, Lou served as an independent consultant to a media and entertainment company, providing technical oversight and advice for a digital distribution platform, including review of back-end architecture and software engineering organization structure. His experience leading multi-faceted development teams on high-visibility and large-scale software implementation programs is an asset to VHB as we continue to expand and enhance our technology services.
Lou is a member of the Society of Motion Picture & Television Engineers (SMPTE) and the Sports Industry Network. He received his B.S. from Manhattan College.