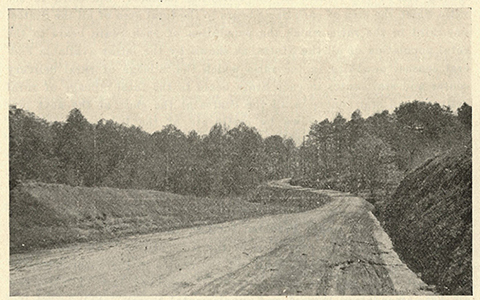 VHB is celebrating Preservation Month this May by highlighting historic projects our Cultural Resources team has been working on. Concluding the series is a look at the historic State Route (SR) 9 in Forsyth County, Georgia.
The Atlanta Cultural Resources team has been working on a mitigation project for the Georgia Department of Transportation (GDOT) on the hundred-year-old SR 9. Since the proposed widening of SR 9 would adversely impact historic resources on the route, GDOT developed an agreement with the Georgia State Historic Preservation Officer, the Advisory County for Historic Preservation, and the Federal Highway Administration to address these adverse effects.
VHB was tasked with producing a developmental history for SR 9 to share this primary route's story with the public. The history focuses on the roughly 12-mile segment from the Fulton-Forsyth County line traveling to northeast to Cumming, GA. As Forsyth County is rapidly transitioning from a rural to suburban area, the developmental history can be used to inform future preservation planning decisions.
Instead of a traditional historic resource survey, VHB is documenting the existing conditions of the landscape, seeking to incorporate the historic built and physical features of the area. To further generate a holistic interpretation of the corridor, VHB is looking at significant periods: pre-construction of SR 9 in 1919, early-to-mid 20th century development, and the late 20th century to the present, which will look at developmental changes after the construction of the parallel SR 400, a limited-access freeway through the county.
"As Forsyth Country transforms from an agricultural community to an integral part of the greater Atlanta region, it is important to identify the remaining historic physical and built character features of the corridor," says Atlanta Preservation Planner Michael Robb. "We are using a landscape-based approach to provide the community with a tool to identify intact resources and treatment recommendations."
Key VHBers involved in this effort are: Erin Murphy, George Rounds, Matthew Kear, Derek Anderson, Patrick Sullivan, and Michael Robb. (Image: State Route 9 in 1920)