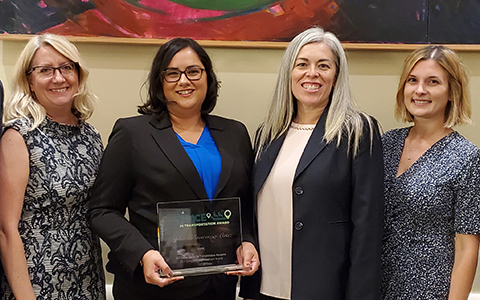 Congratulations to VHB Orlando's Sophia Villavicencio-Ortiz for receiving the second annual New Voice in Transportation Award. Established by the University of South Florida's Center for Urban Transportation Research (CUTR), the award is presented to an individual recognized as an emerging leader in Florida's transportation industry.
Over the course of her six years in transportation, Sophia has established herself as a subject-matter resource in transit grant administration and a reliable, knowledgeable project manager. She has expanded her skills and experience in transportation planning and research, multimodal planning, program management, and community outreach through leadership on a variety of projects with key clients, including FDOT. Sophia is an active member of the Central Florida Chapter of Women in Transportation Seminar (WTS), serving as chair of the Programs Committee, responsible for coordinating events and selecting panelists who provide a forum for collaboration. Most recently, she organized and prepared a charity lunch to benefit the Puerto Rico relief efforts post- Hurricane Maria.
"We are tremendously proud of Sophia for receiving this honor. It is well deserved and in line with all of her accomplishments within the industry and her desire to learn and grow with each project assignment," said Mark Bertoncini, Director of Transportation Highway Design.
Established in 1988, CUTR is a nationally recognized resource for policymakers, transportation professionals, the education system and the public. In selecting award recipients, CUTR partners with WTS Tampa Bay, Tampa Bay Institute of Transportation Engineers (ITE), and the Central Florida Chapter of Conference of Minority Transportation Officials (COMTO) to recognize an individual at an earlier stage in their career who is demonstrating leadership in the transportation profession with significant potential for making an impact on transportation in Florida. This award is a companion to the organization's Hall of Fame Award, celebrating diversity within the transportation profession and inspiring others to achieve excellence.