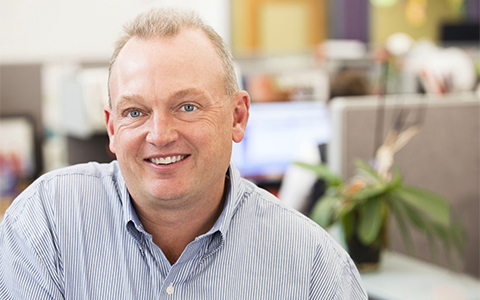 ​Steve Anderson, VHB's VP of Technology Services, was honored recently with an appointment to Esri's Transportation Industry Advisory Board, highlighting his thought leadership and expertise in the transportation market.
Esri, the global market leader in geographic information system (GIS) software, location intelligence, and mapping, offers the most powerful geospatial cloud available to help customers use the full potential of data to improve operational and business results.
The advisory board Steve is joining is comprised of approximately ten individuals from across the country representing State Departments of Transportation (DOTs) and Esri Business Partners who are driving innovation in the transportation industry through the application of GIS technology. Steve's appointment is particularly significant because he is one of only four members from consulting firms who have been nominated by Esri's transportation team.
This group of industry leaders works closely with Esri's transportation, product development, and marketing teams and provides feedback around product enhancements, solution templates, new product development, and industry standards compliance. Steve's appointment is great recognition of what VHB, Steve, and his team have been doing to advance the use of Esri technology for VHB clients in the airport, highway, transit, port, and rails market segments.
"It's very exciting for me to be involved in this process and work with Esri, the DOTs, and other leaders in the transportation industry to help advise on the future direction that Esri will be taking in these critical mobility markets," said Steve.
About Esri
Founded in 1969, Esri software is deployed in more than 350,000 organizations including 90 of the Fortune 100 companies, all 50 state governments, more than half of all counties (large and small), 87 of the Forbes Top 100 Colleges in the U.S., and all 15 Executive Departments of the U.S. Government and dozens of independent agencies.