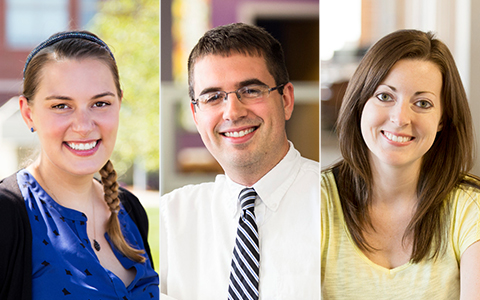 ​VHB congratulates Amanda Bazinet, PE, Mark Costa, PE, LEED AP, ENV SP, and Rachel Dooley, PE, PTOE, who were recognized in the Engineering News-Record (ENR) New England's Class of 2020 Top Young Professionals. The distinction recognizes the best and brightest emerging design and construction leaders under the age of 40 from across New England. Selected from a pool of 32 applicants, they were chosen for their significant contributions to the industry, their company, and their communities. They are featured in the March 2020 print issue of ENR New England.
Amanda Bazinet is a project manager in VHB's Worcester office. Upon completing her Master's degree from Worcester Polytechnic Institute, Amanda joined VHB as a Civil Engineer in 2008. She quickly advanced to a Senior Project Engineer and recently Project Manager. Working in the transportation engineering industry, she designs roadway infrastructure to meet all user needs, including vehicles, bicycles, pedestrians, and buses. Her projects have helped transform areas of Worcester into vibrant corridors through improved streetscapes, street lighting enhancements, landscaping, and ADA compliant roadway crossings that allow users to more easily navigate the City's complex roadways and access businesses and restaurants. Amanda serves as her office's chair of VHB Cares, an internal organization that raises funds for local charities.
Mark Costa is a Water Resources Project Manager in VHB's Watertown office. Mark started his career in VHB's Land Development department after receiving his Bachelor's degree in civil engineering from the University of Massachusetts Dartmouth. Five years ago, he transitioned to the Water Resources department and hasn't looked back. Throughout his 12-year career, Mark has proven his dedication to climate change, community, clients, and colleagues. He has presented at large industry conferences, testified at the State House, led VHB's internal team for resiliency initiatives, and participated in countless community service activities. He serves on the Steering Committee for the EBC and UMass Boston Sustainable Solutions Lab's Climate Adaptation Forum and is also active in the New England Water Environment Association (NEWEA) and NAIOP Massachusetts. Mark has a strong reputation at VHB for supporting fellow staff and participating in a wide variety of community service events.
Rachel Dooley is a Transportation Engineer in VHB's Providence office. Rachel joined VHB seven years ago after completing her Master's degree in civil and environmental engineering at the University of Rhode Island. She has been involved in several important transportation projects, one of the most significant being Rhode Island's Statewide Wrong-Way Driving Mitigation Program. Rachel helped spearhead the design of over 200 ramps to include additional warning signage and markers. She also helped to identify more than 20 high-risk locations with a history of wrong-way maneuvers that would benefit from detection systems. As the chair of VHB's Providence office Charity Committee, Rachel helped arrange 24 events in 2018, which raised over $16,000 for local organizations—the most the office has ever raised in a year.