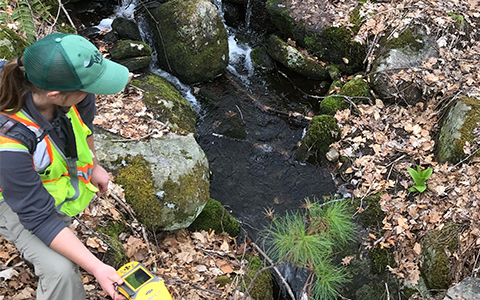 Changes to the U.S. Clean Water Act could have an impact on how your project gets sited and permitted. Here's what you need to know. The definition of Waters of the U.S., which outlines what is protected under the U.S. Clean Water Act, is undergoing regulatory changes effective June 22, 2020.
"The Navigable Waters Protection Rule" helps clarify what is jurisdictional and protected as a water resource. The rule provides four categories of federally protected waters:
The territorial seas and traditional navigable waters
Perennial and intermittent tributaries to those waters
Certain lakes, ponds, and impoundments
Wetlands adjacent to jurisdictional waters
This is the final rule in a series of steps that the current administration has taken to clarify what is protected and provide specific exclusions to define what is not protected. One notable clarification provides a definition of "adjacent wetlands" that describes the physical attributes necessary for a wetland to be jurisdictional relative to its landscape position next to a stream, lake, pond, or other jurisdictional waterbody. This change may affect which areas require permits; isolated wetlands, certain ditches, prior-converted croplands, groundwater, and ephemeral streams are no longer considered Waters of the U.S.
This is a major change in the regulatory process, and you may have questions about how and when the new rule gets applied and what it could mean for new and ongoing projects.
Will the new Federal rules change how wetlands are regulated at the state level?
What are the implications of the new rule?
How might these changes impact project execution?
Will this new rule affect permits that have already been issued, or change mitigation requirements?
VHB Can Help
As changes in the regulatory climate impact development projects, VHB's Wetland Scientists provide the regulatory certainty and guidance you need. We will help you understand the details of the rule and make informed project decisions To learn more, connect with Neville Reynolds, PWS, Senior Principal, Environmental Services Leader.