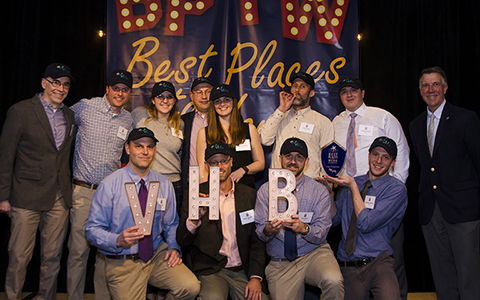 VHB has been ranked fourth on the 2018 list of Best Places to Work in Vermont—climbing up the rankings one spot from last year's list. The annual list is created by Vermont Business Magazine and the Vermont Chamber of Commerce and is designed to identify, recognize, and honor the best places in Vermont. The 12th annual list is made up of 50 companies acknowledged for benefiting the state's economy, its workforce, and businesses. This was VHB's second year participating in the Best Places to work survey.
"It is an honor to be recognized as one of the best places to work in Vermont," shared Dave Saladino, Managing Director–Vermont. "Our people are what make us great, and we value creating an environment where they can thrive and make meaningful contributions to the communities where we live, work, and play."
VHB continuously seeks to be a better place to work–this is an integral part of our Generational Company Philosophy, where great business performance and a focus on our people are given equal attention. VHB is dedicated to its employees and always strives to provide great benefits, challenging work, and increased opportunities for professional growth and development.