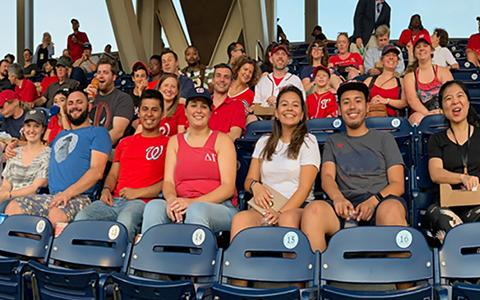 At VHB, we are passionate about the work we do. We're a team who work together to make meaningful contributions to our communities and have fun while we do it—as evidenced by our recognition as one of the 2018 Best Places to Work in Virginia by Virginia Business magazine for the second year in a row! In the Large Employers category (250+ U.S. employees), VHB ranked 20th.
As a generational company, where business performance and our people are given equal attention, work-life balance is important at VHB. We value our employees—with programs promoting and building healthy habits and wellness, and awards recognizing innovative thinking, emerging professionals, and project management excellence, VHB offers employees a collaborative culture with a focus on advancement and progression. From the annual Crab Boil in Williamsburg to trivia nights in Tysons, celebrating Pi Day with pies from a local bakery in Richmond to breakfasts at the Rebar in Virginia Beach, VHBers take the time to step back and reflect on the great work they are delivering, and appreciate each other as a team.
"We are honored to again be recognized as one of Virginia's best places to work," stated Nancy Barker, Regional Manager. "Proud of the work we do, VHBers always remember to make time to celebrate our communities and our team, while continuing to focus on delivering smart solutions for our clients."
The Virginia Business magazine "Best Places to Work in Virginia" competition includes an application process designed to highlight what makes firms stand out from "standard workplaces" as well as an Employee Engagement and Satisfaction Survey of employees to determine what they love most about where they work. The competition is open to all businesses and industries in the Commonwealth. Taking a spot on the list of the best places to work in Virginia for a second consecutive year shows VHB continues to be a company who values all employees, and take great pride in the work we are doing.