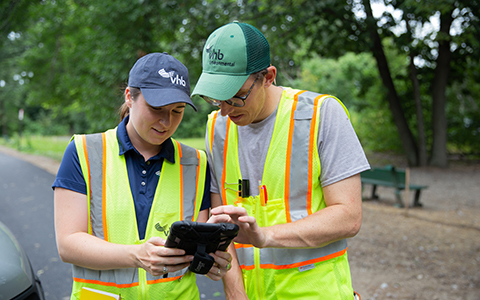 The Engineering News Record (ENR) recently published its annual list of the Top 200 Environmental firms in the U.S., and we are delighted to report that VHB climbed 21 spots to the 131st position, with environmental services revenue of over $55 million.
Combined, these top 200 firms generated over $57 billion in environmental revenue in 2018, a 7% increase from the prior year. Firms at the top of the list shared that 2018 was their most profitable year in environmental services in their histories.
Thanks to our growing team, especially with the addition of the Johnson Company and Ecological Engineering and landing several multi-million dollar contracts, our 2019 numbers are shaping up well.
"It has been exciting to watch the environmental team grow to 300 people," said Susan Nichols, New England Environmental Services Leader. "We are constantly bringing in additional services, new skills, and fresh ideas that support VHB's commitment to environmental stewardship. It's great to see VHB walking the walk and climbing the ranks of the top 200 U.S. firms."