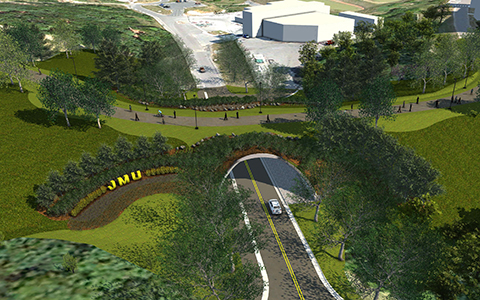 For more than a decade, VHB has provided James Madison University (JMU) with multidisciplinary integrated services. This longstanding relationship allows VHB to think beyond accomplishing a single project, instead considering each project's impact on the entire campus. Recently, VHB used this mentality to help JMU solve two problems at once: what to do with leftover soil and fill materials from the Convocation Center construction site and how to achieve a desire to increase access to Jennings Hall. VHB proposed the East Campus Land Bridge, a bridge/tunnel structure over Driver Drive and East Campus Creek that would use the excess fill to help improve campus connectivity.
"This project was not just about how to get pedestrians from one side of campus to the other," explained John Jennings, PLA, Landscape Architect and National Practice Leader. "It was about solving a difficult reuse solution for cut materials from the Convocation site and using those materials to enhance campus continuity."
VHB collaborated with the project team to develop this creative, practical solution for JMU. John Stronach, PE, Project Manager and VHB's Mid-Atlantic Institutional Market Leader, facilitated a fully integrated services team as VHB provided site/civil, structural, transportation, water resources, utilities, bike/pedestrian, landscape architecture, and environmental permitting to deliver this innovative project.
The East Campus Land Bridge provides a crucial connection from the Skyline area to JMU's East Campus, including Paul Jennings Hall, the new 500-bed residence hall named after Paul Jennings, an enslaved African-American who served James Madison's family. As a subconsultant to VMDO Architects, VHB provided civil, survey, environmental, and transportation planning and design services for this state-of-the-art facility that includes an exhibit on Jennings, a learning commons, large community room, and student dining.
"VHB is dedicated to improving mobility and balancing development and infrastructure needs with environmental stewardship. JMU's Land Bridge is an important piece of that puzzle," said John Stronach. "As JMU continues to grow, we remain both excited and dedicated to helping the University reach its full potential to better serve its faculty and students."
Connect with John to learn more about the East Campus Land Bridge and how VHB can bring our creativity to your next project.