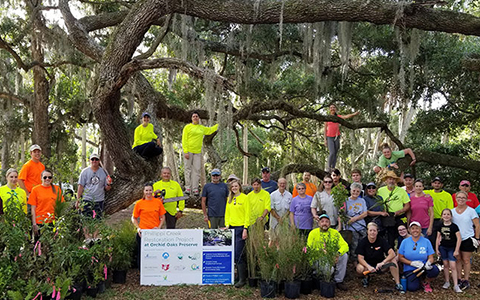 ​The Gulf Coast team recently led an exotic plant removal and native planting event as Phase II of The Orchid Oaks Preserve at Phillippi Creek Restoration Project. Funded by grants from Sarasota County's Neighborhood Grant Program and the Sarasota Bay Estuary Program and by the Orchid Oaks Condominium development, the project began with the removal of invasive, non-indigenous plants that threaten the creek's ecosystem. Native plants were then installed in areas where nuisance plants were removed.
The effort, led by Sarasota office Environmental Scientists Ronnie Van Fleet and John Hussain, focused on the removal of harmful vegetation from a four-acre site in The Orchid Oaks Preserve. Over 50 volunteers, including 15 VHBers and their families, participated in the cleanup. Volunteers from the Orchid Oaks Community, Riverview High School, the Girl Scouts, Sarasota Bay Estuary Program, Sarasota Neighborhood Services, Sarasota County Neighborhood Environmental Stewardship Team (NEST), IFAS Extension Water Stewards, Phillippi Creekers, along with VHB also planted approximately 60 native trees, shrubs, and groundcover plants throughout the site.
As part of the environmental education and outreach component of this project, John Hussain gave a presentation on Phillippi Creek's history from pre-settlement days, highlighting human influences on this urbanized watershed. According to John, "Non-native plants, including the Brazilian pepper, reclinata palm, carrotwood, punkwood tree, and other exotics, have contributed to the decline of the watershed and its wildlife habitat. Plants like the Brazilian pepper are particularly harmful to Phillippi Creek's fragile ecosystem." He adds, "They choke out native plants and degrade the character and balance of this rare native habitat in a relatively developed watershed. We hope our work sets an example for what other residents along the creek can do to improve this underappreciated local resource and recreational asset. A myriad of wildlife and fish, including manatees, red fox, bobcat, barred owl, otter, eagles, osprey, snook, and other fish species should benefit greatly from the restoration."
The VHB team always enjoys leading and participating in ecological restoration projects that benefit native habitats and connect communities with these important resources.
Thank you to all the VHBers who participated: Ronnie Van Fleet and his wife Lynn, Gary Serviss, John Hussain; Diane Ramsey, Ben Siwinski; Adam Olenoski, Lindsay Brendis, Hannah Van Horn, Cameron Coffey, and Bob Woithe.