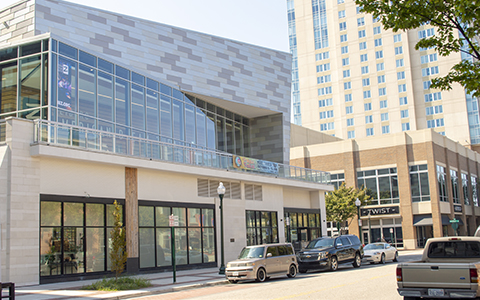 ​Hampton Roads Association for Commercial Real Estate (HRACRE) recognized VHB with two awards—Merit Award in Best Multi-Family/Commercial Housing Project for Block 9-Premier Apartments and Excellence Award in Best Recreation/Entertainment/Hospitality Project for Zeiders American Dream Theater—at the 2019 HRACRE Design Awards.
Facilitated by Master of Ceremonies, Vanessa Coria, Public Relations Counselor at Meridian Group, the awards ceremony highlighted projects from 11 categories that have exemplified excellence in the Hampton Roads real estate community. The categories included Best Commercial/Office/Retail Building, Best Recreation/Entertainment/Hospitality Project, Best Institutional/Public Building, Best Educational Building, Best Healthcare Building, Best Multi-Family/Commercial Housing Project, Best Interior, Best Master Planned Project, Best Renovated or Historic Rehabilitation Project, Best Revitalized Development, and Best Conceptual Project.
"VHB is honored to receive this recognition for both Block 9 and Zeiders," said Project Manager Myrina Gaglione, PE. "Our integrated services teams are dedicated to enhancing communities and economic vitality. We are excited to continue to support this client as Virginia Beach and the Hampton Roads area continues to grow."
Block 9-Premier Apartments, comprised of 131 apartment units, and Zeiders American Dream Theater ("The Z"), a 300-seat theater for artists, composers, and writers to share their creative expressions, is a mixed-use development, with retail, theater, and apartment units. VHB provided site/civil engineering, landscape architecture, and survey. In addition, VHB prepared a streetscape plan that included pedestrian walkways, sidewalks, plant material, specifications, and planting details. VHB also designed the streetscape for the frontage along Commerce Street, Columbus Street, Market Street, and Central Park Avenue. Armada Hoffler Properties was the developer and contractor and Cox Kliewer & Company, P.C. served as the architect.
"HRACRE annually celebrates achievements in the real estate community at its Design Awards," said Ken Rodman, PE, Mid-Atlantic Real Estate Director and HRACRE's 2019 President. "Congratulations to all of the award winners, including VHB."