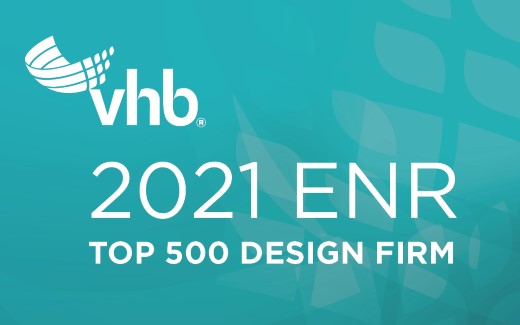 VHB's continued growth has led to our annual inclusion on Engineering News-Record's Top 500 Design Firms List, which ranks the largest engineering, architectural, and environmental design firms according to revenues.
In the magazine's widely read lead story, "Top 500 Design Firms: Designing for the New Normal" ENR looked to VHB and our consultant peers for thought leadership in understanding, navigating, and evolving through the pandemic.
ENR noted that VHB recognizes opportunity for development through remote work. "Where it may not have been feasible to bring an up-and-coming team member to a client meeting in the past, considering time and travel costs, it is now much easier to include them in a virtual meeting," said Bill Ashworth, VHB Chief Operations Officer.
In looking to understand use of alternative project delivery methods, ENR turned to VHB's Transportation Market Leader Steve McElligott, who noted a shift. "Alternative delivery is really becoming preferred delivery. Clients who hadn't used alternative delivery in the past are starting to use it. DOTs are predominantly looking toward alternative delivery to accelerate projects and transfer risk."
We're proud to be recognized by ENR not only for our growth within a competitive industry, but for the depth of our market knowledge and our comprehensive response to the ongoing challenges and impacts from the pandemic.