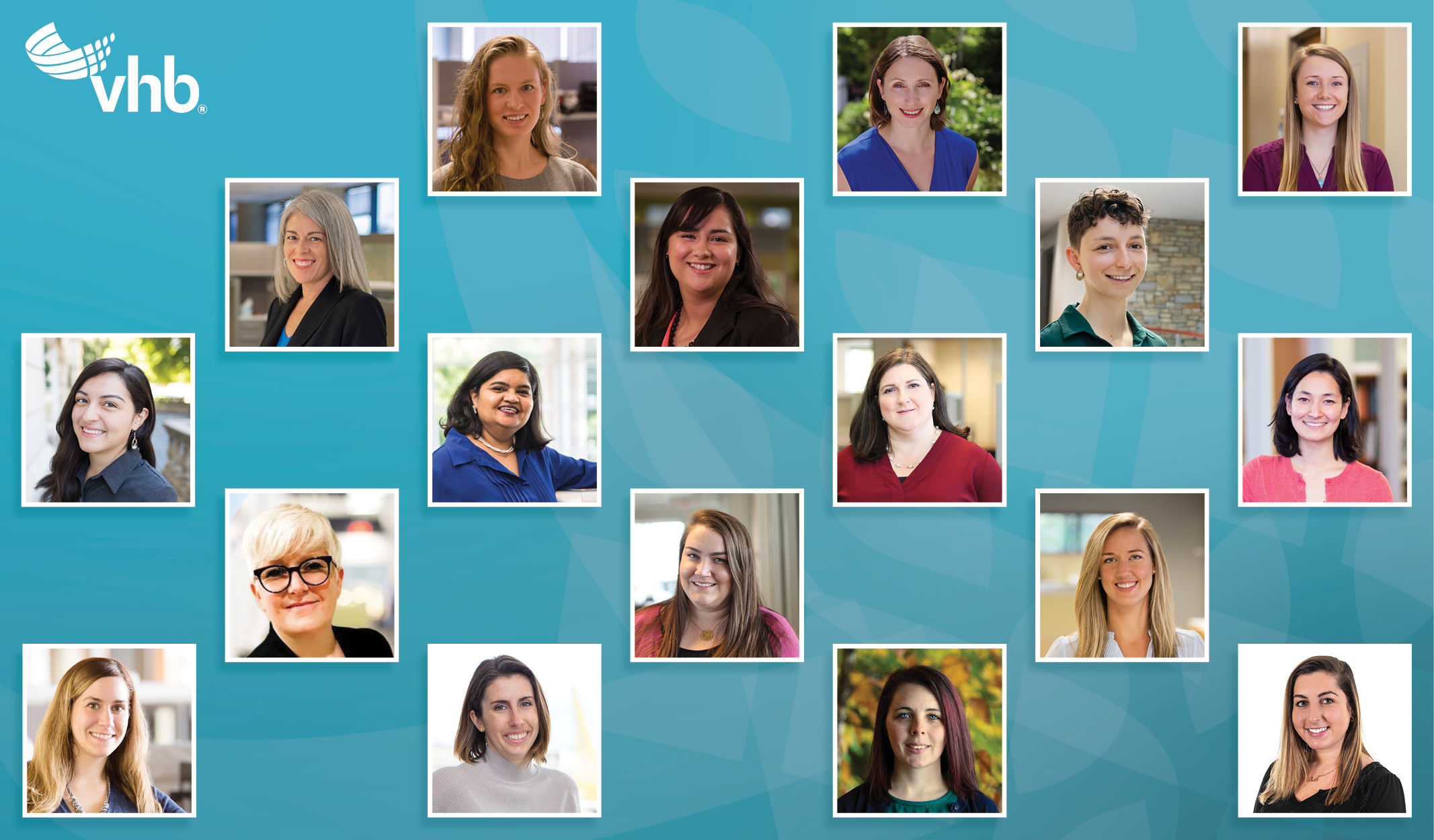 WTS International is an organization working to advance professional women in the transportation industry. As a long-time supporter of WTS International and several WTS Chapters since the company's founding, VHB shares in the WTS mission and is proud to announce that Lauren Ballou, a VHB Senior Environmental Planner, has been named to their Board of Directors.
Additionally, 16 other VHB team members across our footprint have been named to WTS leadership roles.
WTS Maine
Vice President: Mackenzie Bowe, PE, Project Engineer, Portland
Transportation YOU Co-Chair: Ania Chandler, Transportation Designer, Portland
Transportation YOU Co-Chair: Cece Walton, Structural Designer, Portland
WTS Vermont
President: Annabelle Dally, Transportation Designer, South Burlington
Young Member Chair: Nina Truslow, Structural Designer, South Burlington
WTS Boston
Board of Directors: Lauren Ballou, ENV SP, Senior Environmental Planner, Watertown
Programs Committee Co-Chair: Amanda Alzaim, Transportation Highway Designer, Watertown
WTS Rhode Island
Vice President: Kristin Caouette PE, ENV SP, Transportation Engineer, Providence
Director of Student Affairs: Ashley Cunha, PE, Civil Engineer, Providence
WTS Greater New York
Transportation YOU Committee Co-Chair: Sofia Duran, Transportation Designer, New York City
Mentoring Committee Co-Chair: Maxine Hill, Vice President, Managing Director, New York City
WTS North Carolina Triangle
President: Taruna Tayal, PMP, Applied Technology Manager, Raleigh
Vice President: Jessica Luther, EI, Transportation Analyst, Raleigh
WTS Southeast Regional Council Chair: Jenny Fleming, PE, Regional Water Resource Director, Raleigh
WTS Charlotte Metro
Vice President: Lyuba Zuyeva, AICP, Charlotte
WTS Central Florida
Chair of the Awards Recognition Committee: Courtney Reynolds, Transit Planning Manager, Orlando
Programs Committee Chair: Sophia Villavicencio-Ortiz, Project Manager, Orlando
Participation with industry organizations such as WTS, especially serving on committees, is key to building relationships and driving change. We are proud of every VHB engineer, planner, and transportation professional who has been recognized by WTS. Their vision is centered around bringing equity and access to women in transportation and building a future in the transportation industry where women are essential and can thrive. As a Generational Company, VHB shares those values and supports the goals of WTS International to foster mentoring, networking, and other advancement opportunities. Congratulations to all on these WTS appointments!