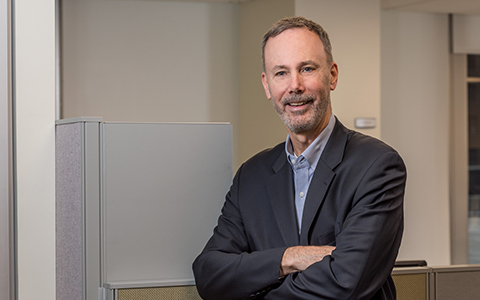 Jim joins VHB's expanding transportation practice in the New York metropolitan area, supporting delivery of the firm's integrated services approach across the region, and further building VHB's relationships with public and private clients.
Jim's background in the transportation, planning, and environmental review industry spans more than 30 years. Most recently, he successfully managed a large, multidisciplinary group of professionals and numerous complex transportation infrastructure efforts, including the Northern Branch Light Rail Extension Project for NJ TRANSIT and the Federal Transit Administration (FTA). Jim oversaw the development of the NEPA Supplemental Draft Environmental Impact Statement (SDEIS), the Final Environmental Impact Statement (FEIS), public outreach, and other associated efforts for this nearly nine-mile and seven station extension of the existing Hudson Bergen Light Rail system.
Jim was also instrumental in the FTA-sponsored Nassau Hub Alternatives Analysis, where he led the Alternatives Analysis and refinement, service plan and operational simulation, and NEPA Documentation as part of multi-modal transportation options evaluation within central Nassau County on Long Island. Jim played a leading role related to the New York Rising Community Reconstruction Program for the NY Governor's Office of Storm Recovery. Under the $700 million program, Jim led multi-disciplinary teams and multi-jurisdictional organizations to develop reconstruction plans and resiliency projects for numerous communities on Long Island and upstate New York severely damaged by Superstorm Sandy, Hurricane Irene, and Tropical Storm Lee.
"Jim's planning and environmental analysis experience, deep knowledge of the New York and New Jersey markets, and commitment to client service strengthens our ability to offer solutions to our clients' most challenging projects," said Terri Elkowitz, Northeast Regional Manager. "His tenure in the public sector with the New York City Department of City Planning and his time as a consultant with leading architecture and engineering firms, combined with his broad project experience, provides him with great insight to some of the most complex planning efforts in the region."​
Jim is a current member of American Institute of Certified Planners and the American Planning Association, and is a licensed Professional Planner in the State of New Jersey. He received his Bachelor of Arts in Environmental Science and Master of Landscape Architecture degrees from the State University of New York.