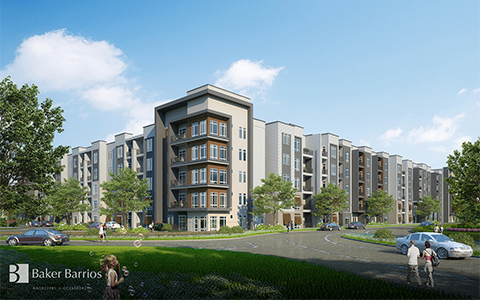 Right in the middle of Orlando's bustling tourism corridor on International Drive, an urban oasis is taking shape that affords the same attention to pedestrian safety and residential amenities as the corridor does to visitor experience. VHB worked with the City of Orlando and Dezer Development, LLC to master plan a new 110-acre I-Drive site encompassing the former Artegon Marketplace mall and parking area into a mixed-use, residential sanctuary that will include apartments, street-facing retail, a hotel, and a redeveloped mall. The first project in the multi-phased redevelopment, the 365-unit, five-story Deseo Grande apartments and parking garage, broke ground in September 2020.
The multiphase concept for the former retail hotspot is implementing new ideas in retrofitting vacant suburban retail into vibrant, livable areas with a distinct urban and residential feel.
VHB's integrated team of planners, engineers, landscape designers, and real estate specialists worked with the City of Orlando, American Landmark Apartments, and Dezer Development, LLC to situate the new apartment complex in a revitalized community with a separate identify from the mall, comprised of walkable streets, a park for residents, and future amenities such as restaurants and retail.
VHB's history with the parcel, including prior work on transaction surveys, subdivision and plats, and concept plans meant the team understood the value and best use of the land from the outset. The increase in residents meant the project team placed emphasis on multiple, safe points of connection to accommodate pedestrians, drivers, and cyclists. Sidewalks within the complex will connect to a nearby elementary school, allowing children to safely walk to school and bypass busy I-Drive. VHB landscape architects designed tree-lined sidewalks, improved wayfinding, and enhanced green space for relaxation and respite.
The team's traffic planning know-how was critical for such a busy tourist corridor and helped the team secure approvals and move the project forward. Connecting the parcel to existing transit systems and configuring one main, shared entrance reduced vehicular traffic and enhances safety for residents and visitors.
"The City of Orlando was very supportive of the way we created a framework master plan for the entire 110-acre site," said Joe Kolb, Southeast Regional Real Estate Services Director. "When complete, the site will be much more than a regional mall, but a bustling, urban residential area with its own distinct identity—a great place to live, work, or visit in Orlando. It elevates residential choice in an important district."
The project team's focus on healthy community design and planning is key to transforming the parcel, mostly dormant since Artegon shut its doors in 2017, from languid to livable. Deseo Grande's architect and operator, Baker Barrios Architects and American Landmark Apartments, notably included features attuned to a stay-at-home workforce more concerned with health and safety than they were pre-COVID-19. Those include additional workstations, outdoor living rooms, enhanced air filtration systems, and a parking garage with separate apartment entries on each level.
Concurrent with the apartment building construction, Dezer Development has plans to redevelop Artegon Marketplace mall into Dezerland Park, an indoor attraction similar to the one it currently operates in Miami, with an automobile museum, go-cart track, pinball, and other activities.
For more information about VHB's services in real estate and retail development management, please contact Joe Kolb (jkolb@vhb.com).