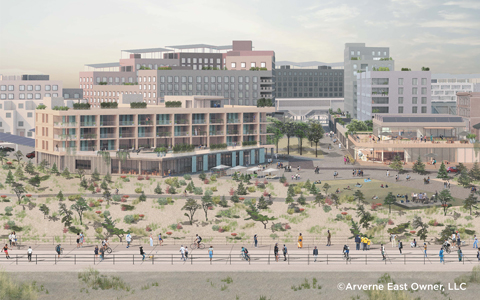 Arverne East, a multifaceted, 116-acre development in the Rockaways at the far edge of New York City recently achieved multiple milestones that will advance the development towards construction. The development obtained Uniform Land Use Review Procedure (ULURP) approvals, construction is set to begin on the nature preserve component in July 2021, and roadway reconstruction design for Shorefront Parkway was completed. Arverne East is being developed as a public-private partnership between The City of New York and the tri-venture team of L+M Development Partners, Triangle Equities, and The Bluestone Organization.
"The opportunity to transform this huge area of underutilized land in the Rockaways is incredibly exciting—these milestones are critical steps as we continue to advance construction on site," said David Quart, Northeast Regional Real Estate Market Leader. "Our team worked tirelessly in putting together our findings during the environmental and site assessments. Additionally, the work done by our integrated service leaders and their teams helped to achieve these significant milestones."
VHB's integrated services approach to the project combines multiple disciplines across our footprint, providing civil engineering, environmental and transportation planning, landscape design, and ecological services for Arverne East, as well as working as an integral member of the developer team to guide the project through the City Environmental Quality Review (CEQR) process. These teams are set to help see the multi-phased project through to completion, which is anticipated to take about 10 years.
When completed, Arverne East is expected to include approximately 1,650 residential units with a large majority being affordable to a mix of incomes, a diverse mix of commercial and community space, a 35-acre nature preserve, and public open space, as well as new streets and parking. Residents will also have access to a redeveloped waterfront, which will include coastal resiliency considerations for combatting sea-level rise and flooding, by design. Transformation of this oceanfront area will promote health and wellness, community and cultural integration, economic diversity and development, and climate resiliency and energy efficiency, building new opportunities for residents and visitors.
To learn more, connect with David Quart: dquart@vhb.com