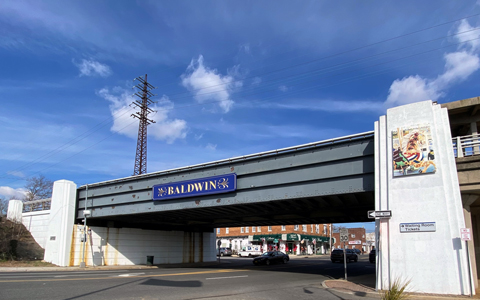 The downtown district of Baldwin on Long Island, New York, will soon be transformed through the addition of new, mixed-use residential and retail development, pedestrian safety improvements, and a targeted marketing campaign to drive new business to the area. The projects, centered around the Baldwin Long Island Railroad (LIRR) Station and part of the Baldwin Downtown Revitalization Initiative (DRI), will receive $10 million in funds to advance. Each was selected by New York State (NYS) following a year-long community planning process in which projects were vetted by a Local Planning Committee (LPC) consisting of civic and business leaders, representatives from the Town of Hempstead and Nassau County, and members of the Baldwin community for their potential to transform downtown Baldwin.
VHB, as the lead consultant to NYS, led the community planning and project selection process and prepared the final Strategic Investment Plan which provides a slate of viable, transformative and catalytic projects identified by the LPC to help realize the community's vision for revitalization of its downtown.
"It's been a privilege to partner with LPC Co-Chairs Supervisor Don Clavin, from the Town of Hempstead, and Dave Kapell, representing the Long Island Regional Economic Development Council, as well as New York State Department of State, and the entire community to help Baldwin advance projects that will catalyze future economic growth," said Lou Bekofsky, Director of Environmental Planning, and VHB project manager for the DRI.
Projects awarded DRI funding include:
$2 million for Milburn Plaza, the $70 million redevelopment of a used-car parking lot with a mixed-use building consisting of 200 apartments above ground floor retail and restaurants and a pedestrian plaza
$3.5 million for a seven-story, $42.5 million mixed-use building located at 775 Brooklyn Avenue adjacent to the Baldwin LIRR station with 107 apartments above 24,000 square feet of commercial office space
Remaining funds were awarded to other residential and mixed-use developments, pedestrian enhancements along Merrick Road, a downtown improvement grant fund for downtown property owners and businesses, and a branding and marketing campaign.
"Congratulations to the Town of Hempstead in receiving this funding. It's exciting to be part of the revitalization efforts of the Baldwin downtown district," said Ken Schwartz, VHB Planning & Design Service Leader.
The Baldwin DRI is part of a statewide, $100 million competitive Downtown Revitalization Initiative led by the governor's office to transform downtown neighborhoods into vibrant areas where New Yorkers want to live, work, and raise families. Previous Downtown Revitalization Initiative grants on Long Island were awarded to Westbury, Hicksville, and Central Islip.
For more information, contact Lou Bekofsky, LBekofsky@vhb.com.