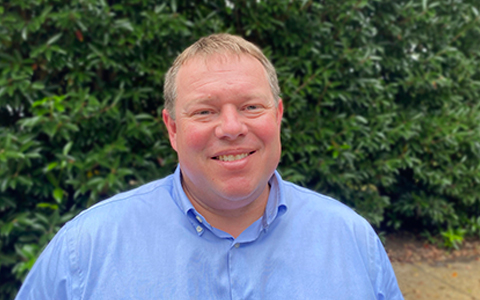 VHB is excited to welcome Ben Virts, PWS, PWD, CPESC, to VHB as Virginia Natural Sciences Service Leader.
Ben is a leader in environmental regulatory processes and has spent the past 20 years of his career assisting a wide range of clients through identifying critical ecological resources, including streams, wetlands, water resources, plant and animal communities, and securing regulatory approvals to implement projects. Ben's experience in environmental permitting, renewable energy development, wetland delineations, stream determinations, threatened and endangered species coordination, cultural resources coordination, and ecological restoration complements VHB's full range of environmental service offerings. In his role, Ben will be dedicated to managing our diverse Virginia Environmental Services Team in navigating complex environmental regulatory processes across various projects.
During the span of his two-decade career, Ben has experience with projects that include electric and natural gas transmission, renewable energy, transportation and municipal utilities infrastructure, in addition to industrial, commercial/institutional and residential development. Prior to joining VHB, Ben supported AVANGRID as the Permitting Manager for their New York Bulk Electric System (BES) "Brightline" Program through an embedded consultant role. He was responsible for leading development authorization and environmental permitting efforts for this multi year initiative to strengthen the northeast power grid and comply with amended FERC reliability requirements.
His most notable work across the Mid-Atlantic, Southeast, and Northeast includes Amazon Wind Farm, U.S. East in Perquimans and Pasquotank Counties, NC; Southampton Commerce and Logistics Center and Cheroenhaka Mitigation Bank Co-Development in Southampton County, VA; Oneonta South Area Electric Reliability Improvements Project in Delaware County, NY; Upper Susquehanna River Mitigation Bank in Potter County, PA; and Atlantic Sunrise Natural Gas Pipeline in Pennsylvania.
"At VHB, we aspire for a more sustainable world in all that we do," said Neville Reynolds, Environmental Services Line Chair for VHB. "Ben's knowledge and experience aligns with this firmwide initiative. His 20 years of responsible environmental and social stewardship practices, combined with his strong outcome-driven approach to support our clients' goals, make him a perfect fit to lead our growing Virginia Environmental Services Group."
Ben earned his Bachelor of Science degree in Environmental Science from Virginia Tech. He is a Professional Wetland Scientist, Professional Wetland Delineator, and a Certified Professional in Erosion and Sediment Control. Ben has completed Levels I-IV of the Rosgen Stream Restoration/Natural Channel Design Program.
For more information about VHB's environmental service offerings and how we can assist you on your next project, visit our Environmental Services page or connect with Ben at bvirts@vhb.com.