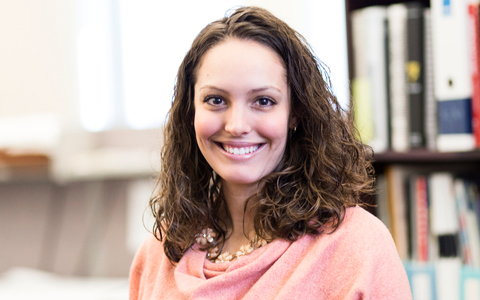 VHB's Brittany Gesner, Senior Project Engineer, was recognized as one of this year's Worcester Business Journal's (WBJ) 40 Under Forty award honorees. This eminent award recognizes remarkable young leaders within the Central Massachusetts business community who excel in their industry and are making changes that impact the future.
Brittany has dedicated her career to executing development projects in a manner that respects the interests of owners, neighbors, community, and the environment. As a life-long Central Massachusetts resident, Brittany has been committed to transforming the Worcester area through land development, consistently strengthening her connections with the community, and local developers and institutions. She plays an active role in the annual Worcester Woman's Leadership Conference and is a frequent contributor to many Worcester Chamber and local networking events.
Since joining VHB nine years ago, Brittany regularly identifies opportunities for personal and professional growth and encourages others to advance their skills and become more confident by identifying areas for development. "Brittany's positive demeanor, energy, and warm personality are undeniable to those around her. She exudes leadership in every meeting, mentoring moment, and interaction with clients," said Justin Dufresne, Managing Director, Worcester, VHB. "Her 40 Under Forty recognition is well-deserved, not only for the success and advancement she has brought to VHB, but for her dedication and positive impact to Worcester's local economy and community."
Recipients of the WBJ 40 Under Forty award become elite members of a class of upcoming business leaders who all share a commitment to business success and personal growth, along with a passion to help strengthen the communities that they live and work in. Brittany deservingly joins the ranks of 800+ other business leaders in the Central Massachusetts/MetroWest region that have also earned this title since the program launched in 2000. "I'm humbled to be honored amongst such an impressive group of individuals chosen for the WBJ 2021 40 Under Forty group," said Brittany. "The energy across Central Massachusetts for revitalizing underutilized land assets is invigorating. It's a really exciting time to contribute to land development and redevelopment within and around the City of Worcester."
A celebration recognizing the 2021 honorees will be held on September 15th from 5:00 p.m. to 7:30 p.m. at Mechanics Hall in Worcester, MA.