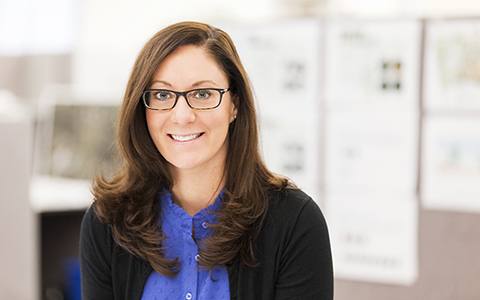 As a former Division I swimmer, Lauren DeVoe is no stranger to hard work and discipline. After graduating from Virginia Tech with a B.S. in environmental policy and planning, Lauren channeled her drive into building a successful and rewarding career. Today Lauren is as a Senior Environmental Planner/Project Manager, Team Leader of the Urban Permitting Team in Boston, and a Principal at VHB.
We talked with Lauren from her home in Santa Monica, California, to learn how she developed her career and what advice she has for people starting out at VHB.
VHB: You started at VA Tech on a swimming scholarship, but you made the difficult decision to give that up. Do you have any regrets?
LD: No, it was a smart decision because VA Tech had a lot to offer academically, which I was able to capitalize on. I continued my involvement in competitive sports through club lacrosse. My many years of playing sports taught me a lot about commitment, time management, and working hard.
VHB: What were your interests in college?
LD: I was part of the first class to graduate with a B.S. in environmental policy and planning from the school's College of Architecture. It was a new program that I helped shape. It exposed me to multiple disciplines, including urban planning and design, environmental policy and law, environmental science, and civil engineering.
VHB: Did you jump right into a career in environmental planning?
LD: No, not right away, mostly because it was clear that I needed a graduate degree. I moved to Somerville and worked in marketing/public relations for a couple of years until I was ready for graduate school. I ended up moving to New York City to pursue an M.S. in urban and regional planning at Pratt Institute in Brooklyn. Sustainability was an up-and-coming field, as green building design and the US Green Building Council's Leadership in Energy and Environmental Design (LEED) were just starting to gain traction, so it was a great time to study those disciplines in a complex, urban environment like NYC.
VHB: Where did your degree take you?
LD: I worked as an environmental reviewer for the NYC Department of Environmental Protection for a little over a year. Wanting to return to Boston, I found an opportunity at VHB. I was hired at end of 2004 by Ken Schwartz, working within the Land Development Planning Group.
VHB: How did those early years at VHB help shape your career?
LD: Eager to learn and not wanting to put all my eggs in one basket, I said yes to everything. As a result I was able to diversify my skills and learn from some of the best at VHB. My assignments included working directly with Project Managers on the state environmental review process under the Massachusetts Environmental Policy Act (MEPA) for various project types for both public- and private-sector clients. I also worked closely with Carol Lurie and Susan Nichols on airport planning and permitting work under the National Environmental Policy Act (NEPA), including T.F. Green and Logan airports. I was able to collaborate with VHBers across New England…it was a terrific experience.
VHB: Was there one turning point or break-through for you?
LD: Early in my career there was a lot of big box retail development happening in the private sector, and having studied urban planning and living in Beacon Hill (for over 15 years without a car, I might add!) I was more interested in urban development. As VHB's LD Planning Group evolved, I ended up being one of the only people in Watertown working on MEPA projects, so I supported that entire operation. When Elizabeth Grob was hired in 2014 to build what is now the Urban Permitting Team out of the Boston office, she and I partnered to hire staff and bring in more complex high-profile urban permitting work. I eventually transitioned to Boston and have worked closely with Elizabeth ever since.
VHB: What advice do you have for people building their careers at VHB?
LD: VHB has a lot to offer in terms of the range of services we provide and an entrepreneurial way of thinking. If you stay engaged and say yes to different types of work, you'll find numerous opportunities to grow. It's also important to hone your skills and follow your interests.
VHB: Where did that process lead you?
LD: Every project was an important step forward, learning how to deliver for clients. But one that stands out was the chance I had early on to get involved with LEED certification for two buildings at a new biomed campus in Devens, MA. I was working with Curt Quitzau and the client into the wee hours on a fast-track permitting application, and our client happened to see "LEED AP" on my business card. They planned to pursue LEED on the project and said, "Lauren is a LEED AP. She can do this for us!"
At that point I had only passed the exam and had no LEED administration experience. But, with the support and guidance of others at VHB, I got to take charge of getting two major buildings LEED certified, which was amazing. VHB trusted me on a big, complex project with a steep learning curve, and as a result, the firm gained valuable experience in an important emerging field. We achieved LEED Silver for the lab/office building and LEED Gold for the manufacturing facility—the first LEED certified buildings in our client's portfolio. And, with this experience, I ended up managing a LEED Volume Program for a major supermarket chain for over 10 years.
VHB: Tell us about your recent milestone…
LD: Well, there have been two recently. My husband's job took us to California in early 2019—well before working remotely had become the new normal. So that was a big test, both for me and for VHB. I needed to prove that I could make it work. I was very fortunate to have a lot of support, not just from VHB, but from loyal clients as well. In my first year, I continued managing multiple complex, demanding projects, including Suffolk Downs Redevelopment—the largest development project in Boston's history.
Then in 2020, I was named a Principal, which was—and is—a huge honor. The hard work I put in over the years and especially while working remotely the year before was important in giving VHB's senior leaders the confidence that I could serve the company and our clients effectively from the other side of the country.
It's another example of VHB being a place where you can grow. That door is always open if you are willing to work hard, reach out for help when you need it, and find ways that you can add value.
VHB: That's an inspiring story, thanks Lauren!