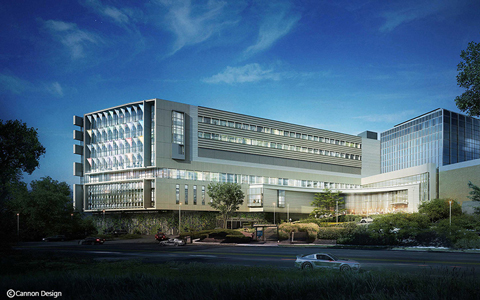 The Northwell Health family marked a milestone for the new Petrocelli Advanced Surgical Pavilion at North Shore University Hospital when they celebrated placement of the final steel beam, "topping off" construction, on Thursday, May 20th. VHB provided civil engineering, transportation, and environmental services for the construction of the Pavilion.
The eight-story, 269,000-square-foot Pavilion will include a state-of-the-art surgical suite, cardiothoracic and neurological ICU facilities, mechanical space, and a parking deck, as well as new entrances to the hospital and a public lobby. As part of Northwell Health's ongoing capital improvement plan, the Pavilion will provide an advanced clinical environment where complex cases can be treated and studied.
"Celebrating moments like this, when a much-needed facility gets closer to completion, is what motivates us at VHB," said Daniel Winkelman. "VHB has supported Northwell Health's capital planning and facilities development initiatives for more than 20 years. We're proud to bring our organizational familiarity, technical experience, and top-priority attention to projects like the Petrocelli Advanced Surgical Pavilion so that Northwell Health can focus on delivering the high-quality patient care they're known for."
The new Pavilion will accommodate the future health care needs of the community, offering more personalized care and bolstering the local public health care infrastructure. When complete, the Pavilion will significantly expand the high-quality capabilities of the North Shore University Hospital and create opportunity for advancements in technology and medicine.
For more information, contact Daniel Winkelman: dwinkelman@vhb.com