The National Park Service (NPS) published a Sediment Management Framework and Environmental Impact Statement (EIS) this spring for Cape Hatteras National Seashore (the Seashore), a popular tourist destination with historical significance located on the Outer Banks of North Carolina that continues to face coastal erosion due to sea level rise. With more than two million visitors a year, this area includes preserved historic sites and lighthouses, residential properties, and wildlife habitats that span 67-miles of ocean-facing seashore. VHB led a team, alongside Coastal Science & Engineering (CSE), that created the 20-year Sediment Management Framework and EIS to mitigate potential impacts and protect this dynamic landscape as it faces future challenges from sea level rise.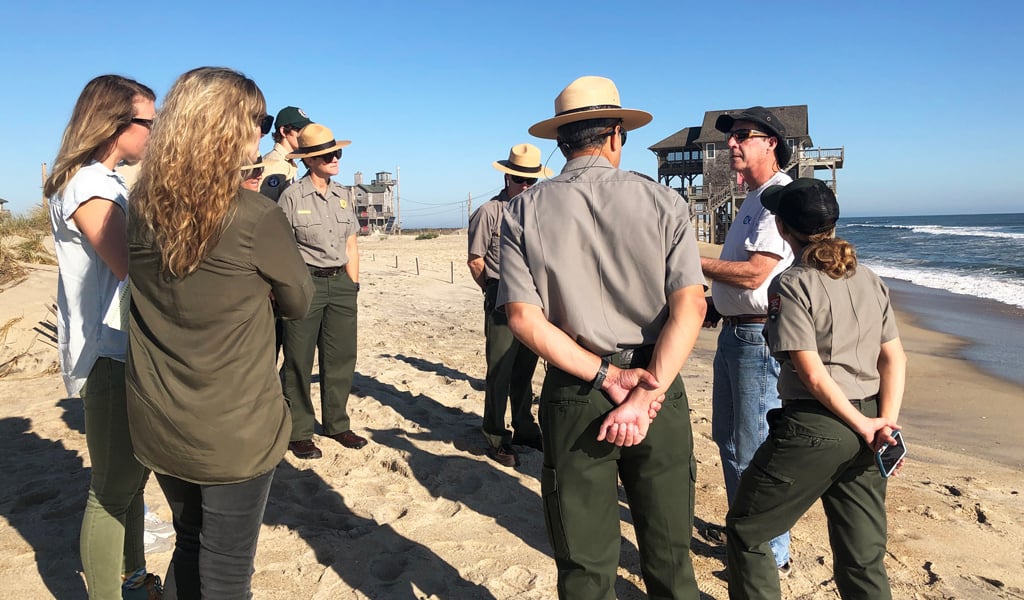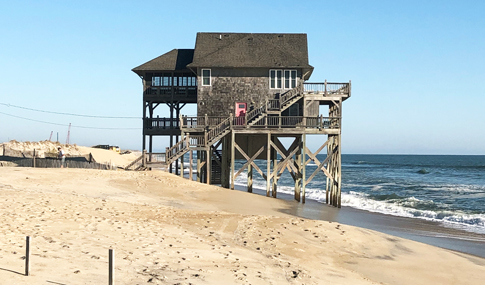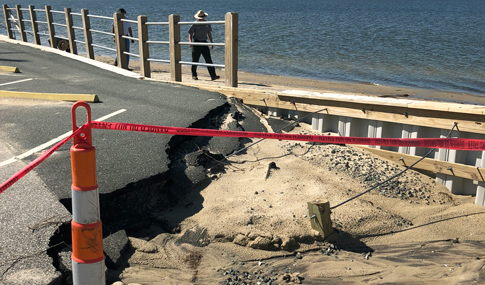 The Seashore is managed by the NPS and encompasses nine villages across the Outer Banks, including Nags Head, Rodanthe, Waves, Salvo, Avon, Buxton, Frisco, Hatteras, and Ocracoke. These unspoiled barrier islands have retained their natural conditions and are home to numerous wildlife species, including sea turtles, wild horses, and over 300 species of birds. North Carolina Highway 12 is the primary thoroughfare that runs 148 miles through the entire Outer Banks, often experiencing washout and breach due to high tides and intense storms. In combination with human action, this has attributed to coastal erosion and the need for a framework to protect beaches, highway infrastructure, ferry terminals and neighborhoods, and to maintain the navigability of waterways.
"The Sediment Management Framework was created as a guide for issuing special use permits for sediment management actions along the Seashore for the next 20 years," said Candice Andre, Senior Project Planner for VHB. "This proactive approach will allow the NPS to have a comprehensive understanding of all sediment management activities occurring across the Seashore and streamline the process for managing and maintaining them. Entities such as local governments, utility companies, state agencies, and federal agencies may need support as needs arise to protect critical infrastructure, island damage, and wildlife habitat restoration by performing beach nourishment, dune stabilization, emergency breach repairs, and habitat restoration. The Sediment Management Framework will provide clarity to the public and the NPS when issuing permits—streamlining this process."
In compliance with the National Environmental Policy Act (NEPA), the EIS evaluated multiple alternatives to determine the best course of action for managing sediment activities by assessing how each alternative would impact the natural and human environments. VHB led the preparation of the Sediment Management Framework and EIS by providing environmental planning services, civic engagement and information collection, preparation of an environmental review document for public review, and preparation of a decision document.
As the Seashore continues to flux from the everchanging shift in natural ecosystem processes and human forces, VHB is helping the NPS remain proactive at planning for the future by addressing infrastructure needs, tourism growth, and disaster management. The Sediment Management Framework and EIS establish a strong foundation to strengthen, prepare, and recover quickly from future challenges that may arise.
For more information about the types of services we provide for the National Park Service, visit our Federal Land Management page on our website, or visit our Environmental Services page to learn more about the full-range of services we offer to promote environmental stewardship.