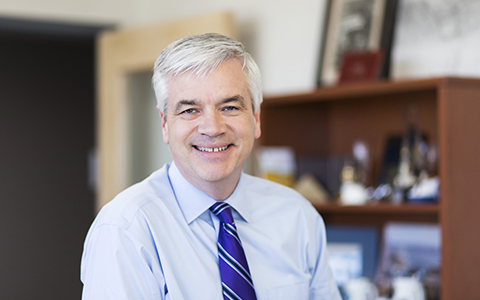 The American Council of Engineering Companies (ACEC) recently announced expanded research and thought leadership capabilities with the formation of the ACEC Research Institute—an engineering industry trade group poised to become the premier source for industry trends and analysis. VHB President and CEO Mike Carragher has been appointed to the role of Vice Chair of the Institute's Board of Directors. Mike will serve alongside Chairman John Carrato, President & CEO of Alfred Benesch & Company.
The ACEC Research Institute's mission is to deliver knowledge and business strategies that guide and elevate the engineering industry by:
Identifying, funding and providing industry wide research, forecasts, and trend analysis.
Capitalizing on the rapidly changing nature of technology and society to ensure a sustainable engineering industry.
Promoting the engineering profession's essential value to society.
Inspiring future generations to solve the world's most challenging problems through engineering.
As a member of the Research Institute Board, Mike will have the opportunity to help the industry remain trusted advisors and leaders to our clients and communities. "I was thrilled to be asked to serve as Vice Chair of this highly regarded Board of national leaders," Mike shared. "Our industry continues to lead the way in solving our nation's most complex challenges. The Institute will provide a means to research and prepare for the rapidly changing nature of our world and society, including technologies that are shifting the way we work and global issues like climate change. I've always been incredibly passionate about the tremendous impact our profession makes and I look forward to helping to continuously expand our industry's knowledge, understanding and expertise —with the goal of preparing future generations to solve the world's most challenging problems through engineering."
Mike will be collaborating with Board members from CHA; Kimley-Horn; Stolfus & Associates; Jaros, Baum & Bolles Consultants; Deltek; and Autodesk to advance the Institute's mission. Click here to see the full roster of the Research Institute Board members.
"ACEC's membership is comprised of thousands of firms that represent the full scope of a vibrant industry that contributes billions of dollars to America's economy every year, and improves our lives on a daily basis," said ACEC President and CEO Linda Bauer Darr. "The ACEC Research Institute will provide our industry with cutting edge trend data, research and analysis to help firm owners make decisions and arm the Council with information to explain engineering's essential value to a broad audience."
VHB is a proud supporter of ACEC and its mission, and VHB employees are involved at various levels in Member Organizations across our footprint. Currently, Mike serves on the ACEC Design Professionals Coalition Executive Committee.