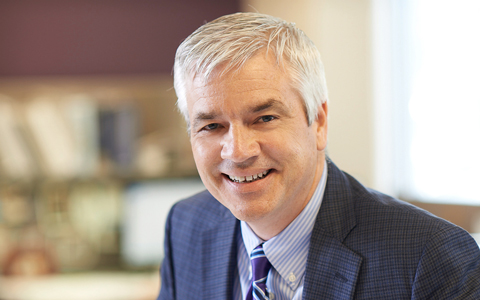 VHB's Chief Executive Officer, Mike Carragher, has been named the winner of the 2021 Honorable Ray LaHood Award presented by the Boston chapter of the Women's Transportation Seminar (WTS). This distinguished award recognizes a male in a leadership role with an outstanding commitment to the WTS' mission to build the future of transportation through the global advancement of women.
Mike has dedicated himself to enhancing our nation's complex transportation networks and enriching the A/E/C industry through a diverse workforce with unique ideas and voices during his 30-plus-year career. Since joining VHB 22 years ago, Mike has endeavored to foster a workplace where the support for women goes well beyond the numbers and the metrics. His membership in WTS-Boston has significantly influenced VHB's culture, which promotes a sense of inclusion, importance, and support, and women serve in all levels of leadership, playing key roles in leading strategic initiatives. "WTS is an empowering organization that has meant a great deal to VHB, to many of our employees, and to me personally," said Mike. "I especially value the diversity of thought and perspectives that WTS supports within the transportation industry."
Recipients of the Honorable Ray LaHood Award directly contribute toward the advancement of women and minorities through programs and opportunities in the transportation industry, and Mike has done just this. Recognizing the need for change and the role that A/E/C firms have in creating a more equitable workplace, in 2020, Mike shared with Engineering Inc. Magazine, "We need to create a much better environment so that diverse populations see opportunity in our industry change. We need to create an atmosphere where people feel like they can succeed and bring their whole self to work each day."
Mike consistently fulfills his commitment to diversity and inclusiveness through a variety of efforts, including spearheading an A/E/C industry Diversity and Inclusion Working Group with Woodard & Curran and RS&H alongside VHB Chief People Officer Keri Kocur; co-leading VHB Community Conversations about social justice, mental health, and other important topics; and organizing and chairing a VHB DEI Steering Committee. Mike has served as a mentor for rising professionals in the transportation industry through formal programs, such as the WTS Mentor Match Program.
The WTS-Boston chapter was established in 1980 by 20 women looking to transform the transportation industry landscape for women. WTS-Boston has expanded rapidly since its formation and is now one of the most impressive chapters in the WTS International organization.