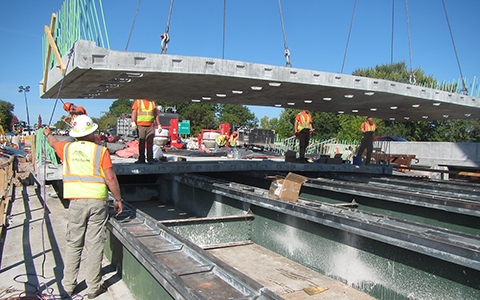 The Colchester Bridge Deck Replacement project was recently recognized by the American Council of Engineering Companies (ACEC) of Vermont with two prestigious awards: the 2020 Engineering Excellence Grand Award in the Transportation Category and the Green Mountain Award, the top honor for ACEC of Vermont's Engineering Excellence Award competition.
When it became clear that Bridges 76 North & South over Bay Road and Bridges 77 North & South over Mallets Creek on Interstate 89 needed to have their concrete decks replaced, the Vermont Agency of Transportation (VTrans) engaged VHB to develop an approach and schedule that minimized impacts to the environment and the traveling public. Working closely with VTrans, the contractor, and the Town of Colchester, VHB's innovative design incorporated accelerated bridge construction techniques and a precast concrete deck system never before used in Vermont, AccelBridge™, to finish the project ahead of schedule and within budget.
"We are honored that the Colchester Bridge Deck Replacement Project was recognized by ACEC of Vermont," said Scott Burbank, VHB Project Manager. "This project exemplifies how a creative engineering team such as VHB, a state transportation agency willing to embrace innovative techniques, and an engaged community can collaborate to create an exemplary, context-sensitive project of which all parties can be proud."
The four three-span continuous bridges are located along one of the busiest stretches of I-89 in Chittenden County, and VHB's team understood that a typical crossover approach to traffic management wouldn't work. Instead, VHB engineers combined multiple traffic control plans into a single plan that maintained two lanes in the peak commuter direction.
This was accomplished by reversing the direction of travel in the left lane of the interstate barrel that was open to traffic. The contractor was then able to demolish half of each bridge deck prior to the bridge closure period. This approach, combined with VHB's accelerated bridge construction procedures, reduced the bridge closure to 59 hours from what could have been up to 14 days. This new methodology can now be used in the removal and replacement of future concrete decks on Vermont's interstate and high-traffic volume bridges.
ACEC of Vermont is an organization of engineering consulting firms whose mission is to contribute to economic viability and quality in Vermont. The distinguished Green Mountain Award is an honor bestowed on the best overall engineering excellence award project for the year by ACEC of Vermont.
The VHB team was led by Project Manager Scott Burbank, PE, with Lead Designers Ryan Barnes, PE, and Jason Keener, PE, along with Senior Project Engineers Dan Peck, PE, and Mark Suennen, PE, PTOE; Project Engineers Kelly Barry, PE, and Evan Drew, PE; and Transportation Planner Karen Sentoff, EIT.