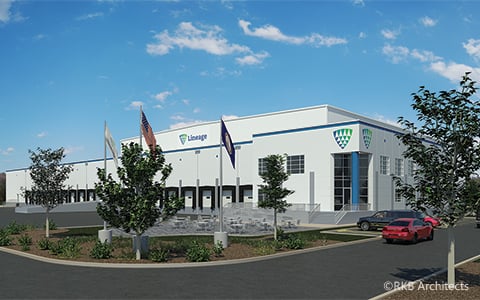 Construction is underway for a new 167,264 square-foot cold storage facility in Portsmouth, Virginia, which will be used to import, export, process and distribute a variety of food products across the region. This $60 million facility built for Lineage Logistics, a temperature-controlled warehouse operator, will meet the surge in demand for cold storage space and strengthen the Port of Virginia's supply chain and logistics infrastructure. VHB's deep knowledge of the site was instrumental in expediting the permitting and advancing the design of the infrastructure to support operations.
The cold storage facility's strategic location in Portsmouth, adjacent to the Virginia International Gateway terminal, gives Lineage Logistics access to global markets. The Virginia Economic Development Partnership worked closely with the City of Portsmouth, the Hampton Roads Economic Development Alliance, and the Virginia Port Authority to secure the project for the State of Virginia, bringing over 60 new jobs to the area and returning formerly vacant real estate to productive use.
Lineage Logistics acquired Preferred Freezer Services in 2019. The company has the largest temperature-controlled facility network globally with over 37 million square feet of capacity, across 200+ facilities in North America, Europe and Asia. Lineage Logistics is focused on servicing large and small retailers and food producers worldwide with their supply chain needs.
"We are seeing an increase in the need for cold storage facilities as the industrial demand for transporting refrigerated goods expands," said Ken Rodman, Real Estate Market Leader for the Mid-Atlantic at VHB. "These facilities allow for manufacturers to protect their investments and eliminate risk by being able to store them at the correct temperature, often contributing to a longer product shelf life."
As a team member to RKB Architects and Victory Unlimited Construction, VHB's engineers prepared an early earthwork, erosion & sediment control, demolition, and stormwater package to facilitate an accelerated construction schedule. The firm has also been instrumental in shaping recent industrial developments within the region, including Bridgeway Commerce Center and Northgate Commerce Park in Suffolk, Virginia, as well as PepsiCo's new distribution facility in Chesterfield County, Virginia.
For more information about this project, or our industrial portfolio across the firm, contact VHB's Real Estate Market Leader, Ken Rodman at krodman@vhb.com.