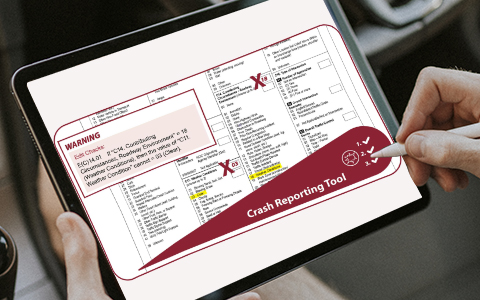 The National Highway Traffic Safety Administration (NHTSA), in collaboration with the Federal Highway Administration (FHWA), has launched a Tribal Crash Reporting Toolkit to provide Tribal governments the ability to collect, manage, and analyze crash data. The need stems from the Tribes' desire to improve crash reporting and define a safety program that will advance their roadway networks. The toolkit is available online and includes seven user-friendly document-based and software-based tools that have been pilot tested by Tribal governments across the United States.
As independent governments within the United States, Tribes perform analyses within their domains that help them identify important focus areas for safety improvements, perform systemic and location-specific roadway analyses, and evaluate contributing factors in crashes. The toolkit provides Tribes and their law enforcement agency partners (whether part of the Tribal government or not) the opportunity to collect and manage complete, accurate, and consistent data in one central place. These tools align with and support the same processes Tribes use to develop their Transportation Safety Plans.
As a consultant to NHTSA, VHB's Safety and Applied Technologies teams designed and developed application software for long-term tracking, and tools for manually capturing data at the scene of a crash. The pdf-based crash reporting software application was designed to store data for an individual crash report or be sent to any desired database, such as a law enforcement agency's records management system. To accommodate the crash reporting tool, the team created an Officer's Instruction Tool, Quality Control Tool, and Database Tool to maintain consistency between data entry. In addition, fillable PDF tools were created for collecting crash data at the scene. One unique feature is the pdf-based diagramming tool that allows users to include a visual representation as part of the crash report.
VHB's in-house consulting team for Tribes was also instrumental in gaining effective feedback from the Tribes to create a set of tools that met their needs and required no licenses for basic use of the crash report form or database.
"The success of this project is a direct result of having members of Tribal government involved in the tool development," said Bob Scopatz, Senior Transportation Safety Analyst for VHB. "Not only were we able to have the tools pilot tested by eight Tribes, but we also assigned a Project Manager who is a Tribal member and Chamber of Commerce member. Our goal for this project was to collaborate with the Tribes, NHTSA, and FHWA to deliver an innovative solution that helps them improve safety across their governments. We want to help Tribes have easily accessible data, records, and analyses."
Additional features of the toolkit include a self-assessment tool that will allow governments to identify ways to improve their collection process, and a written document to help address common misconceptions about law enforcement crash reporting. The full toolkit is available free of charge on the Transportation Safety for Tribes website, in addition to other helpful resources to help Tribes get started.
Interested in seeing more of where we've used applied technologies to create innovative solutions for our clients and partners? Visit our Applied Technology website page.