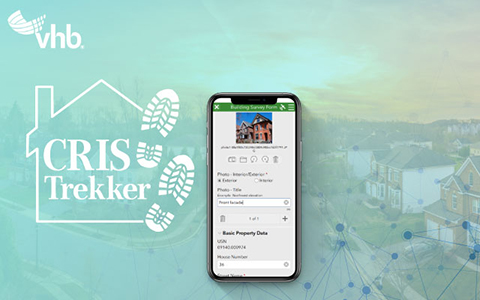 In 2015, following the devastation of Superstorm Sandy, VHB's Applied Technology team was asked to develop CRIS Trekker 1.0 for the New York State Historic Preservation Office (SHPO) to provide a mobile data collection solution to help the state quickly inventory and assess the condition of historic buildings and resources within the areas affected by the storm. The data collected was integrated into the NY Cultural Resource Information System (NY CRIS) database for further analysis and use. NY CRIS is the statewide system used by the NY SHPO and their partners to record and manage data concerning the cultural resources within the state, and to provide a platform for reviewing and processing a wide variety of historic preservation projects.
At the client's request, VHB recently launched CRIS Trekker 2.0, which greatly expands the tools available and is more tightly integrated with NY CRIS. The new version of Trekker is interactive, mobile-friendly for use in the field, and captures real-time data stored in a cloud-based mapping system. While the tool is built on advanced technology under the hood, its easy-to-use interface makes it accessible to novice and power users alike. CRIS Trekker 2.0 leverages Esri's Survey 123 to collect building data in the field, and uses Esri's ArcGIS Online (AGO) platform for storage, management, and analysis of building surveys. The new version makes the entire process faster, more efficient, and incredibly flexible for the end user.
CRIS Trekker 2.0 is available to authorized consultants and partners who can use the mobile tools to collect data in the field, as well as leverage additional tools and functionality within NY CRIS to professionally manage all field data collected, submit data to SHPO, and digitally interact with SHPO staff. A basic version of CRIS Trekker 2.0 is also available to the public, allowing users to collect and submit digital building inventory forms to SHPO in a straightforward manner without requiring a login.
Larry Spraker, Northeast Applied Technology Manager, directed the project and is very pleased with the value VHB was able to offer our client by integrating cutting-edge technologies on the back end with a user-friendly front end.
"CRIS Trekker 2.0 has revolutionized the workflow for capturing and submitting data on cultural resources. The complete integration with the NY CRIS platform is a game changer for NY SHPO, their preservation partners, and the general public. The response from the historic preservation community has been tremendous."