When Curt Ostrodka talks about smart communities, he begins by talking about people. He then focuses on sustainability, equity, and quality of life. Eventually, he addresses technology. That order of priorities is important, and one that differentiates VHB's approach to smart community planning and growth. We asked Curt, Director of Community Planning in Orlando, to tell us more about the VHB approach to smart communities.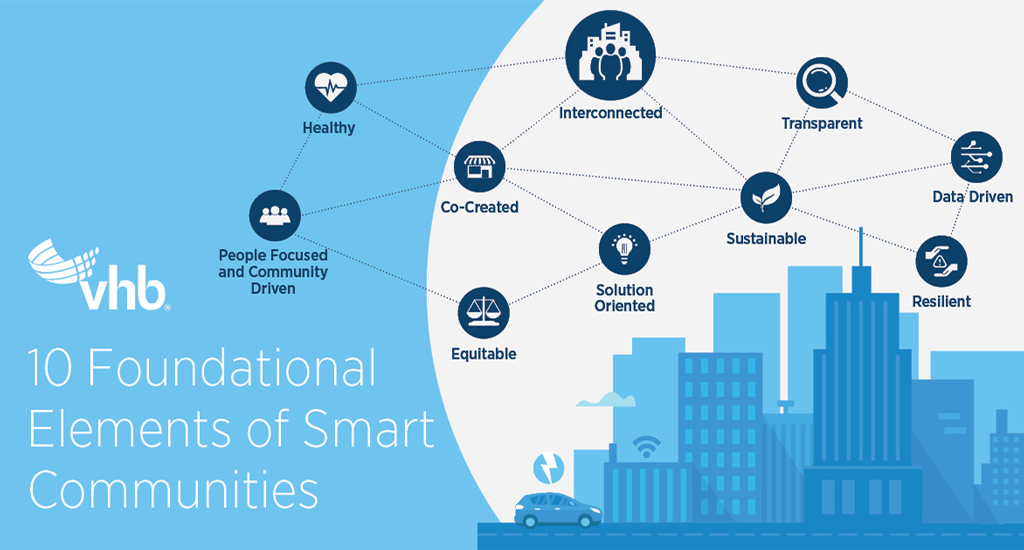 VHB: Curt, what exactly is a smart city?
CO: The term "smart cities" has been thrown around for about a decade, with various definitions. At its core, a smart city improves quality of life for citizens by providing efficient government services and private-sector partnerships. Data-driven and technology-enabled solutions are nearly always components of a smart city, but how those components are adopted has really become a differentiator in whether smart cities succeed or fail.
VHB: VHB uses the term "smart communities" rather than "smart cities." Why is that?
CO: You'll hear reference to smart communities vs. smart cities because we want clients to understand that urban areas are not the only ones to benefit from smart technologies. All communities—suburban and rural communities need our assistance, too. One example is how VHB helped small municipalities across New England advance smart-ready LED street lighting projects, which not only save money and energy, but have built-in technology that provides insight far beyond lighting, such as monitoring the environment for air quality and detecting loud noises.
VHB: How does a smart community get started?
CO: Done well, a smart community puts the needs of its residents first. It's critical to begin with an exploratory process to identify what people care about, what the community is doing well and where they're falling short, and what services and resources are needed to provide greater sustainability, equity, and quality of life. Technology and data are often a part of the solution, but it's so important to start by understanding the community and then see where those elements can help, rather than the other way around.
VHB: What does a successful smart community look like?
CO: VHB has partnered with the City of Orlando since 2019, helping them develop their Future-Ready City Master Plan. We've worked hand-in-glove with all stakeholders, including residents, to make certain that everyone's ideas could be shared and the final plan received broad buy-in.
One example of that close collaboration is a food recovery project. During our extensive public engagement process, residents told us that they cared about food waste and wanted to do something about it. This issue was not on our initial planning list and likely would not have surfaced without VHB's inclusive approach.
The City is now funding a pilot with Goodr, an app that connects restaurants and other businesses that have surplus food with shelters and food pantries. Orlando is now diverting about 60 meals a day to hungry people that otherwise would have gone to a landfill. We've increased sustainability and equity by providing a basic necessity to a vulnerable population. Technology helps to connect the needs with the surplus, but it didn't drive the process.
VHB: That's incredible. How about an example where technology plays a more visible role?
CO: A major issue that emerged is Orlando's digital divide. We helped Orlando develop a year-long pilot that supplies neighborhood centers with mobile tablets and 4G hotspots that people can check out for two weeks at a time.
VHB: Has that been well received?
CO: It's been a hit. Seniors are using the tablets to apply for jobs, join zoom calls, access email and social media, schedule vaccine appointments…we've been amazed by the need this program is filling. In a survey, one resident wrote, "I am thankful for the city of Orlando for making these items available to seniors. Thank God for the person who came up with the idea." That certainly made our day.
VHB: Who implements all these programs?
CO: It's a partnership between the City, VHB, and third-party vendors. Orlando appointed VHB as their Owner's Representative on this master plan for five years, which means we help the City evaluate technologies and select vendors. We're also their boots on the ground, helping to implement on-call projects. For example, VHB programmed and distributed the tablets, and we licensed mobile-device management software to keep track of the devices and remotely wipe people's data after each use to safeguard privacy.
VHB: Where does technology really shine in a smart community?
CO: One of the best examples would be digital twins. A digital twin is a 3D virtual model of an entire city that can range from simple to complex, including every floor of every building, overhead utilities, and underground infrastructure. This digital replica lets you model all kinds of scenarios, like what happens if the power grid is knocked out for three days? How would a new college campus downtown impact traffic and water consumption? What will flooding look like in 30 years as sea levels continue to rise?
VHB: What does the future look like for VHB smart community planning?
CO: The concept of smart communities is continuously redefined by the pace of innovation. We expect even more interest due to the proposed American Jobs Plan $2 trillion investment in rebuilding the nation's infrastructure and reshaping the economy. VHB's work with Orlando and our continued commitment to incorporate innovation, technology, sustainability, and resiliency in everything we do will play a critical role in helping us advance smart community projects nationally.
Learn more about VHB's approach to smart communities.