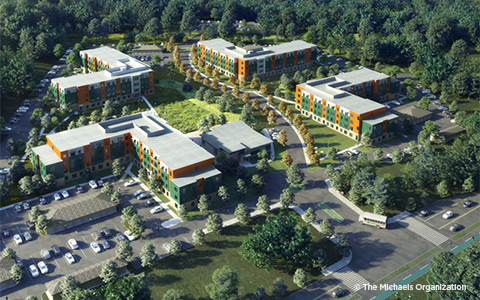 A new student housing project is underway at Dartmouth College in Lebanon, New Hampshire. The groundbreaking took place at the end of August and marks the start of a 300-unit apartment development that is aimed to help ease the housing deficiency for Dartmouth graduate students.
The construction of the $54 million Dartmouth complex will happen in two phases which will eventually consist of four apartment buildings, a clubhouse, a mail delivery service, and an operations building. The project is being developed by Michaels Student Living LLC of Camden, NJ. Michaels is a national leader in residential real estate and will own and manage the development, with a 98-year ground lease from Dartmouth.
As part of this Public Private Partnership (P3) project, VHB is providing civil and landscape engineering, surveying, environmental services, and traffic support, as well as working with the client and the City to extend sewer access to the property. Following the first in-person public meeting in March 2020 (pre-COVID-19), the team worked closely with the City to coordinate virtual community meetings. These meetings were essential to successfully permit and keep the project moving forward to meet its August 2022 completion deadline. VHB will continue to provide environmental monitoring during the estimated two-year construction timeframe.
The new housing complex is responding to the shortage of affordable housing in the Upper Valley region. Upon completion, the housing will fill a critical need for the College's graduate program, with an estimated 30 percent of the more than 2,000 graduate students living in college-owned housing. The rental units will initially be made available to Dartmouth students, with any remaining units being offered to the region's second largest employer, Dartmouth Hitchcock Medical Center (DHMC).
To learn more, contact Dave Fenstermacher, Director of Land Development, at dfenstermacher@vhb.com.