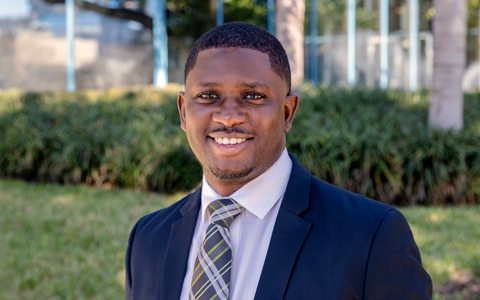 VHB is strengthening its integrated approach to projects in the Sunshine State by naming Demond Hazley, PE, as Managing Director of VHB Gulf Coast. Demond's multidisciplinary background and client commitment will be instrumental in leading the Sarasota and Tampa offices at a time of booming population growth and opportunity in the region.
Demond previously served as Interim Managing Director of VHB's Orlando and Gulf Coast offices, balancing the needs of VHB's people, operations, and strategy during the upheavals of COVID-19 to achieve growth and financial success. His leadership helped both offices secure strategic projects that elevate sustainability, resiliency, and equity in communities across the state.
Demond has more than 17 years of experience with VHB, leading multidisciplinary, integrated project teams that significantly advanced infrastructure projects across the U.S. His comprehensive knowledge of transportation planning initiatives at the Federal Highway Administration (FHWA) level, such as Transportation Systems Management and Operations (TSM&O), has allowed Demond to be a key contributor to Florida Department of Transportation (FDOT) Districts 1 and 5 TSM&O program maturity. He will add critical insight to rapidly developing Gulf Coast infrastructure that responds to climate change and the allocation of federal monies from the Infrastructure Investment and Jobs Act (IIJA).
"Demond is the right leader for a critical time of growth and opportunity on Florida's Gulf Coast," said Matt Lamb, Southeast Regional Manager. "He has the connection and commitment to the region, and understands how technology-enabled, data-informed solutions will help coastal communities solve their most urgent issues."
VHB Gulf Coast engineers, landscape architects, urban planners, and environmental scientists are involved with some of the most important projects in the region, including civil engineering and permitting for Water Street Tampa, landscape design and civil engineering for Moffitt McKinley Hospital, real estate consulting and aviation planning for Hillsborough County Aviation Authority's four airports, and monitoring vital water resources for Southwest Florida Water Management District, Tampa Bay Water, and Sarasota County.
In his previous role as VHB Director of Transportation Planning, Demond's clients included FDOT Districts 1 and 5, and Orange County, Florida, and also extended beyond Florida's borders with the National Park Service (NPS), Colorado Department of Transportation (CDOT), and Virginia Department of Transportation (VDOT). He has extensive experience in comprehensive transportation systems management and operations, master and comprehensive planning, ITS solutions, traffic operations, and growth management support for local municipalities.
Demond's involvement with the VHB Transportation Leadership Team, VHB Emerging Professionals and VHB CARES, an internal group of employees focused on community service, included guiding integrated transportation teams across VHB's footprint, spearheading career mentorship opportunities for new employees, and helping teams raise monies to benefit nonprofit and charitable foundations such as Moffitt Cancer Center.
Demond received his bachelor's degree in Civil Engineering from the University of Central Florida and is a registered professional engineer in Florida and Colorado. He is a member of ACEC Florida (FL) and Colorado (CO) chapters, previously serving on the Legislation Committees and contributing to the ACEC CO Stand as Stewards Initiative. Connect with Demond on LinkedIn or via email.