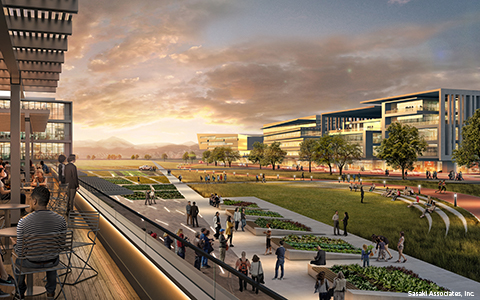 The Denver International Airport (DEN) Strategic Plan was recently honored with a Merit Award from the American Planning Association (APA) Colorado Chapter. VHB worked closely with the Sasaki team, providing aviation planning and strategic environmental permitting services. The award is recognition of the strong collaboration, vision, and leadership displayed.
The DEN Strategic Development Plan (SDP) focuses on the airport's non-aviation land. Their 16,000 acres is the largest land holding of any North American airport and among the largest in the world. The SDP provides the land use, urban design, landscape, and development vision and framework for a new commercial community as part of the future non-aviation development of Denver International Airport.
This project marks the first time a major, international airport in the U.S. has proactively planned for a major non-aviation land resource to complement long-term aviation development. VHB, along with Sasaki, worked to achieve DEN's vision and planning goals and assist them in becoming the global leader in airport urbanism through the creation of sustainable, human-scaled places and experiences surrounding the airport.
VHB is proud of our work on this collaborative effort and the recognition for the Denver International Airport. Congratulations to the entire team!