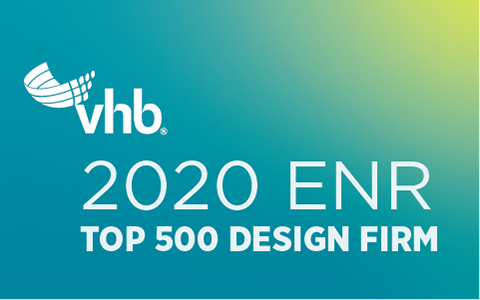 VHB's sustained growth across markets and regions has led to our continuous advancement on Engineering News-Record's Top 500 Design Firms List, which ranks the largest engineering, architectural, and environmental design firms according to 2019 revenues. This year, VHB moved up 7 spots to number 55—following on the heels of last year's jump of 7 spots.
In the magazine's widely read lead story, "2020 Top 500 Design Firms: Will COVID-19 Change Design?", ENR looked to VHB for thought leadership in understanding the crisis and how it will impact the industry.
ENR noted that VHB put a Business Continuance Program in place nearly a decade ago, following 9/11. "VHB established a global risk committee to periodically analyze a wide variety of potential threats to our business, from cyberattacks and natural disasters to pandemics, to prepare the firm to meet the challenges of natural and man-made disasters," said Mike Carragher. Mike also singled out communicating with employees as critical.
In looking to understand market impacts, ENR pointed out that while every market is being impacted by the pandemic, each is doing so in different ways. VHB's Federal Market Leader and Mid-Atlantic Regional Manager, Nancy Barker, explained that federal agencies have some protection in this crisis, saying, "While disruptions are expected, Federal Land Management Agencies and Federal Highway Administration Office of Safety are moving forward with ongoing projects. Unlike a government shutdown or catastrophic weather event, where funding or resources are issues, federal agencies need to continue to address mission requirements during COVID-19."
To evaluate impacts to the transportation industry, ENR turned to Transportation Market Leader Steve McElligott, who noted some positive trends he's seeing. "There is strong potential to accelerate project work to take advantage of reduced asset usage to maximize efficiency of construction efforts, as well as to leverage existing low interest rates by bonding against future capital dollars."
On the higher education front, David McIntyre, VHB's Institutional Market Leader, highlighted a number of challenges influencing this sector, including hits to revenue from student refunds and a lack of fees for services such as parking, dining, and recreation. David said these impacts would be compounded by reduced state funding due to falling tax revenues and poor endowment returns, which could negatively impact capital projects.
In questioning whether COVID-19 represents a long-term paradigm shift, ENR spoke with Steve Thomas, VHB's Real Estate Market Lead. Steve pointed out that some changes caused by the pandemic, such as working from home, may boost trends that VHB has already been addressing. "We are noticing a trend that centers around millennials and migration to the suburbs. As they begin to expand their families, some millennials are looking to purchase homes outside the city. However, they still desire an urban lifestyle." VHB's thought leadership on the "surban" phenomenon—the confluence of urban amenities within a suburban environment—is also featured in this Viewpoints video by Chief Development Officer Mike McArdle.
We're proud to be recognized by ENR not only for our consistent growth within a competitive industry, but for the depth of our market knowledge and our comprehensive response to the ongoing challenges and ripple effects from the pandemic.
You can read ENR's full article here.