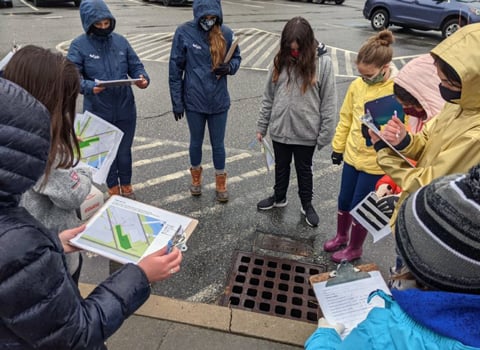 The Watertown Girl Scouts Troop 82131 is made up of 12 girls working to make a difference in their community and acquire leadership skills along the way. The girls' work over 18 months led them to earn the Girl Scout Bronze Award—the highest award a Junior Girl Scout can achieve.
An all-female team of VHB Water Resource Engineers and Designers—Jill Baumbach, Kelly Siry, and Cambria Ung—educated the girls on water pollution and the difficulty of "depolluting" water. With help from friends and family, the Troop collected 30 pounds of trash along the Charles River. Jill, Kelly, and Cambria engaged the girls in a Zoom discussion about water filtration and guided them as they built their own mini filters at home.
To give the scouts a real-world perspective, VHB then met with the Troop in person to tour a large-scale water filtration system in the Charles River in Brighton, MA. Reflecting on the opportunity to introduce young girls to science and engineering, Jill, Kelly, and Cambria noted that their work with the Girl Scouts was "such a rewarding experience and privilege to introduce STEM concepts."
Congratulations to Troop 82131 on their achievement!