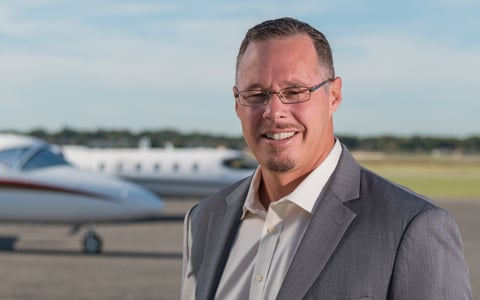 Fin Bonset, VHB's Director of Aviation Services, leads a team that works across the company's footprint to advance initiatives in a range of aviation-related disciplines, including planning, environmental services, technology-enabled consulting, and sustainability and resiliency. We caught up with Fin to find out what's happening in the industry, where aviation is headed, and what it means for our clients.
Q: Fin, news headlines have not been flattering to the aviation industry lately, with canceled flights and chaos at airports. Looking beyond these challenges, what are you seeing that would get people excited about where aviation is headed?
Fin: The last few years have definitely been a bumpy ride for the aviation industry, and airlines are still working through a lot of Covid-related disruptions. But it's actually an incredibly promising time in aviation. I've been in this field for over 23 years and have never been more excited about the developments we're seeing.
One major trend is the move to net zero. A large number of states and major U.S. cities are making significant strides towards a carbon-neutral future, including renewable portfolio standards and net zero mandates for public entities and facilities. VHB is working with airports and public transportation authorities to design sustainability and resiliency roadmaps, with subsequent airport master planning, to help them reach these goals in the coming decades.
For example, we're working with Massport, the Massachusetts Port Authority, to help them develop a cost-effective Climate Action/Net Zero plan that aligns with the Commonwealth's 2050 Climate Roadmap. We're also developing a program that would make Burlington International Airport (BVT) in Vermont among the most sustainable airports in the nation. Our work will enable BVT to understand their existing performance, continue to document and report on current sustainability strategies, and develop high-impact actions to reach ambitious new sustainability targets.
We're also seeing opportunities for airports to develop energy roadmaps and plan for how they can sustainably increase their energy infrastructure to accommodate the move towards electrification, namely electric vehicle and airplane charging. With our extensive experience in environmental services and sustainability planning, we're able to walk clients through the complexities of projects like these.
Q: We're all familiar with electric cars—are you saying we'll be plugging in airplanes soon, too?
Fin: Well, not large commercial planes like the Boeing 737 just yet. Large aircraft manufacturers are looking at sustainable aviation fuels, such as organic and hydrogen, but they're still working on the scalability of these technologies. However, advanced air mobility (AAM) is one of the hottest trends in aviation, and aircraft electrification is a significant component of that. The FAA and NASA are currently working on the implementation of AAM, including urban air mobility and electric/hydrogen powered vertical take-off and landing (e/hVTOL) aircraft, alongside partners in the industry, consultants like VHB, and state and government agencies.
Investment dollars are flowing into eVTOLs—with young frontrunners such as Joby Aviation and Lilium—and VHB is an urban and airspace planning leader in this emerging field. We recently did an interesting podcast with Matt Broffman, Lilium's Senior Manager of Public Policy, hosted by Dave Mulholland, VHB's Chief Technology Officer.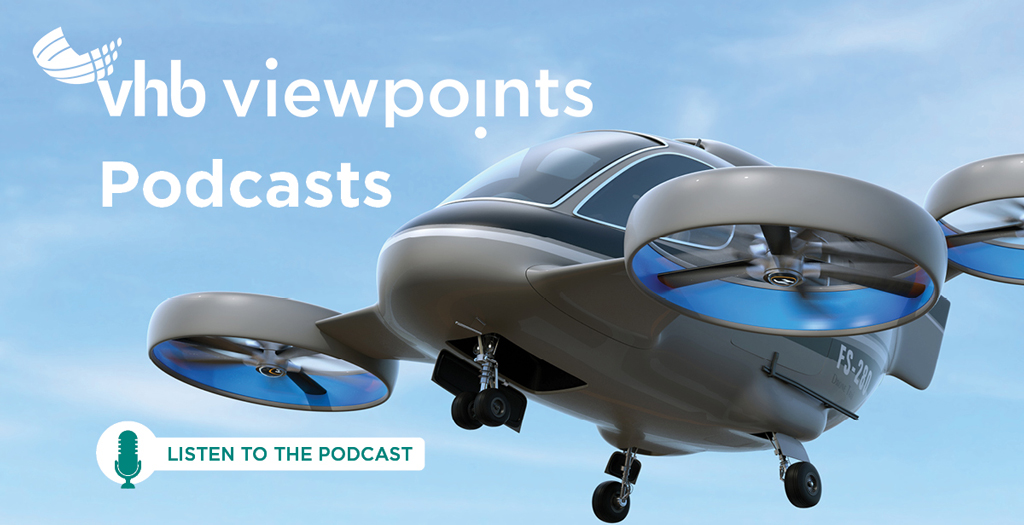 Q: In terms of embracing AAM, who's leading the pack on the public side?
Fin: The City of Orlando is one of the early adopters. We've been working with them for some time now on their Future-Ready City Master Plan, and they recently added an AAM component. For that project, VHB is partnering with FDOT, the FAA and NASA, leading manufacturers, all local transit agencies, and stakeholders to bring this vision to Orlando. VHB's Curt Ostrodka, Director of Smart Communities, and Dave Mulholland have been the driving force on this initiative and have included our aviation practice in the effort, showcasing VHB's collaborative, integrated services approach.
Q: I think for many people, eVTOLs seem more like sci-fi than reality. How do you see this technology becoming part of our everyday lives?
Fin: Here's a great example. Let's say you've landed at Palm Beach International Airport and have a meeting in Miami. Instead of sitting in rush hour traffic for an hour and a half, you board an eVTOL air taxi and arrive in 15 minutes. Companies like Lilium and Joby are already leasing land at airports to develop vertiports—similar to heliports but for eVTOLs—so they can provide a commuter link for passengers who fly into those airports and need local connections.
We're also seeing opportunities for large retailers to provide last-mile delivery. So imagine a cargo plane lands at an airport, packages are offloaded and transferred from the cargo bay to a fleet of remote-controlled drones—also known as unmanned aerial systems, or UAS—which will then deliver the packages right to your door through established, low-altitude airspace corridors.
With Section 163 of the FAA Reauthorization Act of 2018, projects involving the development of airport land for non-aeronautical use have a faster FAA review and have thus become very attractive commercial options—both for airports, which are eager to further develop their land holdings, and for the companies leading in the AAM/UAS space.
Q: How far away are these scenarios?
Fin: Using UAS for package delivery is certified and happening as we speak. China is testing remote-piloted eVTOLs for passenger taxi service, and they're only about five years ahead of the U.S. So these innovations are either here already or on the very near-term horizon. The issue now is staffing on the certification side with the FAA as there are currently over 350 requests for eVTOL certification pending.
VHB just unseated a competitor to win a commercial services real estate development contract at a major airport to build capacity for AAM. For another client, we brought in Hovecon, a consulting firm working to accelerate the adoption of autonomous aerial transportation, to establish a UAS component for an airport master plan, which will be one of the first of its kind in the U.S.
Q: These are impressive developments, and it's surprising to learn that they're so close at hand. It sounds like VHB is in a leadership position and can offer aviation clients a full range of services, from environmental services and sustainability to master planning and real estate development to vertiports, eVTOL, and AAM/UAS.
Fin: That's correct. VHB is out in front among firms that specialize in AAM, and we have strong relationships with airports, the FAA, land developers, commercial developers, UAS/AAM expert partner firms, and manufacturers—as well as the integrated approach to bring all of these components together on projects.
Q: As you reflect back on your six years at VHB, what are you most proud of?
Fin: When I joined VHB, our team was pretty small and our services were limited. Now we have a core team of people dedicated exclusively to aviation work, including Carol Lurie, Regional Aviation Director; Sierra LePore, Senior Aviation Planner; Andrew Cheng, Transportation Analyst; Casey Venzon, Senior Environmental Planner; and myself. We partner with over 50 colleagues in other disciplines at VHB on aviation projects. We've really grown as a practice, which is reflected in our roster of clients and projects, and I'm excited to continue expanding our service capabilities as the industry accelerates into this phase of tremendous innovation.
Fin Bonset holds a BS in Aviation Management & Flight Technology and a master's degree in Airport Management & Development from the Florida Institute of Technology. He is also a licensed commercial pilot with instrument ratings for both single- and multi-engine aircraft.
To learn more about VHB's aviation practice, contact Fin.