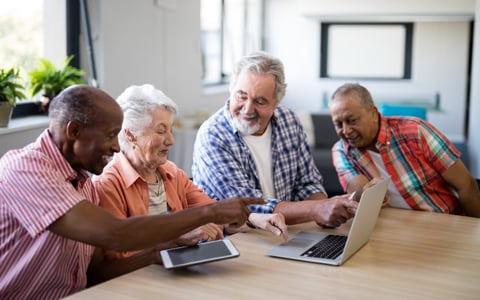 It is hard to imagine going about our daily lives now without internet access, but for many families in Orlando and across America, that is still the case. The digital divide was made apparent most recently when people were sent home en-masse due to COVID-19: 15 percent of U.S. homes with schoolchildren were without high speed internet access to make the transition to online learning. An initiative from the City of Orlando as part of the new Orlando Future-Ready City Master Plan hopes to lessen that gap by supplying five community centers with tablets and Wi-Fi hot spots available for check-out at no cost to residents. VHB helped the City identify the program need via stakeholder engagement during the master plan research phase, secured technology and resources, and developed the program in partnership with City planners.
"The Digital divide refers to the gaps between households that have reliable access to the internet and those that do not," said Curt Ostrodka, VHB Director of Community Planning. "Lack of access to information and opportunity is a societal equity problem we want to address via the Future-Ready City Master Plan. Its tenets are focused on using technology to address issue of sustainability, resiliency, and social equity in in our communities."
The initial technology lending library will consist of 24 eight-inch tablets and 24 mobile 4G hot spots, with potential to expand based on public interest. Participating community centers are located across the City's Commissioner districts and include John H. Jackson Neighborhood Center, Dr. James R. Smith Neighborhood Center, Engelwood Neighborhood Center, Rosemont Neighborhood Center, and Reeves Terrace Neighborhood Center. The tablets and hot spots are user-friendly, optimized for high-speed internet access, and most importantly, free for any Orlando resident to use to access information for homework, job searches, community health updates, breaking news, and more. The tablets have internet access with age-friendly weblinks to useful tools for seniors such as educational sites, social media, and career resources. Participants must sign a waiver and can check-out items for a two-week period. All user data is wiped from the device upon check-in.
"The technology lending library is a great example of how smart community programs don't have to be costly or difficult to implement to have a significant impact on people's lives," said Michael Hess, Director of Future Ready for City of Orlando.
Discover how VHB can help cities implement a smart community plan.