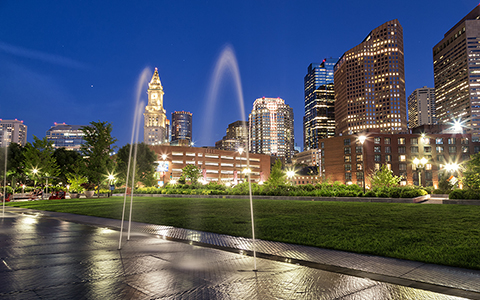 ​​The Rose Kennedy Greenway is a contemporary public park in the heart of Boston, where millions of visitors come to gather, unwind, and explore. This beautiful urban green space, located steps from our Boston office, was built on top of Boston's Central Artery/Tunnel project, a.k.a. "The Big Dig" – a mega-project that benefited from VHB's planning, design, and traffic management services. The Big Dig was a game-changer for downtown Boston, and it set the stage for the construction of The Greenway in 2008.
In late 2019, the Greenway Conservancy—the nonprofit which manages the park's horticulture, programming, public art, maintenance, and capital improvements—released an RFP for a State of Good Repair Assessment. VHB learned of this opportunity through VHB's President & CEO Mike Carragher, who is a big supporter of the Greenway and co-chaired the Conservancy's annual Greenway Gala in 2017 and 2018. The Conservancy sought to develop an advanced, interactive, GIS-based asset inventory of its 1,000+ physical assets (including lighting, furniture, fountains, vehicles, and more) and assess their physical condition, with the goal of streamlining their capital planning process and allowing for more efficient and effective allocation of resources.
VHB's Real Estate Team has been focused on finding opportunities to leverage our Applied Technology capabilities to better serve private clients, and this unique opportunity piqued our interest. Having just produced a Flood Vulnerability Asset Assessment for Boston Children's Museum, and given our established relationship with the Conservancy, this RFP presented an ideal opportunity.
Our team leveraged internal resources and existing industry relationships to create a robust team that featured members of VHB's Applied Technology Team, ETM Associates, and Weston & Sampson. The result was an innovative proposal, captivating presentation, and a big win for VHB!
VHB worked diligently to develop a powerful, user-friendly GIS platform that will help the Conservancy monitor and maximize the value of their capital investments for years to come. The Conservancy was so impressed with the team's asset inventory capabilities and the GIS-based solution that they invited VHB to present the solution to the Greenway Business Improvement District (a group of Greenway abutters that includes several noteworthy developers, including Oxford Properties, Pembroke Real Estate, HYM, and Related Beal). VHB presented to this influential group in September, demonstrating VHB's ability to partner, invent, and create unique solutions for clients.
"Our work with VHB has provided the Conservancy with a better understanding of The Greenway's physical assets through inventory management and GIS mapping," said Jesse Brackenbury, Greenway Conservancy Executive Director. "We can continue to protect and plan for The Greenway in the long and short term and provide a welcoming public park to all."
As the world continues to move towards digital solutions, we look forward to providing existing and new clients with similar, future-focused solutions. If you are interested in partnering with VHB, please contact Senior Project Manager Luke Mitchell or Applied Technology Manager Dale Abbott.