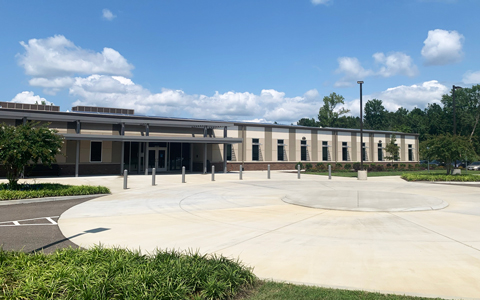 The Henrico County Mental Health and Developmental Services (MHDS) East Center was recently recognized as a USGBC Virginia Community Leader Award recipient: 2021 Climate Champion Award. These prestigious awards recognize local excellence in high-performance building design, environmental stewardship, community impact, and volunteerism. VHB treats sustainability as an integral part of their holistic project approach, considering client needs now and into the future. As a member of the Moseley Architects team, VHB provided civil engineering, including site work, landscape design, and design of an underwater retention system for this $10 million, 30,735-square-foot facility. Design concept planning began in August 2017 and the building opened for patients in June 2020.
VHB worked with Henrico County to continue their mission of delivering services with integrity, credibility, and sensitivity to employee and citizen needs. Henrico County's MDHS East Center is an outpatient health facility providing a range of essential mental health, substance abuse, early intervention, and same-day access services to residents from Henrico, Charles City, and New Kent counties in Virginia. The project earned Leadership in Energy and Environmental Design (LEED®) green building certification at the Gold level by reducing environmental impacts in the areas of site design, water and energy use, building materials, and indoor environmental quality.
"Achievement of LEED certification shows a commitment to environmental stewardship, resource use reduction, and enhancing quality of life," said VHB Project Manager, John Carty, PE, LEED AP. "The MHDS East Center project delivers insightful solutions to positively impact and foster sustainability in our community."
Notable features include an underground stormwater-management structure and water-saving plumbing fixtures that reduce consumption by 30 percent annually, or 56,000 gallons, compared to standard fixtures. A 272-kiloWatt array of rooftop solar panels (680 panels) reduces the all-electric building's reliance on grid electricity, while its efficient HVAC and LED lighting systems help reduce energy consumption by 20 percent compared to standard construction. Seventy-five percent, or 200 tons, of the construction and demolition waste was recycled. Environmentally friendly indoor features include ceiling fans; well-insulated walls and windows; and low-chemical-emitting sealants, paints, and flooring.
VHB is dedicated to helping industry partners take action to improve health and well-being, contribute to economic vitality, and promote environmental stewardship. The Henrico MDHS East Center will provide evidence-based care that addresses the needs of the community and exemplifies Henrico County's commitment to providing quality mental health services to as many people as possible.
To find out more about how VHB is committed to sustainability in all that we do, visit the Social Responsibility page on our website.