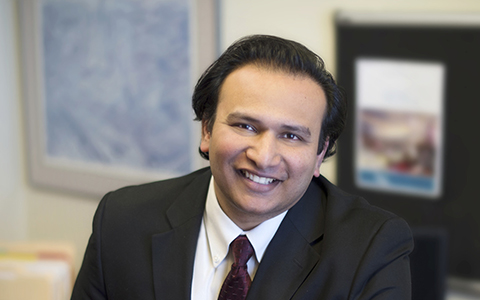 By now, you may be familiar with our Intersect technology and how we are using it to revolutionize the way we collect traffic data for our clients, but you might not know the full story. We caught up with Amir Rizavi, PE, ENV SP, Director of Transportation Systems and one of the leaders of the interdisciplinary team who created Intersect to go behind the scenes to find out more about how and why VHB created this innovative technology.
VHB: What's the story behind developing Intersect?
Amir: We launched Intersect initially as a response to the onset of the COVID-19 pandemic—our teams companywide faced the challenge of determining the non-existing vehicular volumes on roadways at the time of the pandemic, which would help keep our clients' projects on track. However, the vision for Intersect goes back several years, over multiple conversations that Steve Anderson, Dave Mulholland, Keith Smith, Donald Cooke and I had either individually or as a group.
When we won the Brooklyn Queens Connector EIS in NYC, we started to create a microsimulation model for a massive study area of about 350 intersections. Often, we would talk about how we should find a way to leverage all the data collected and how to continue to keep the network current with the help of probe data. In other conversations, we would discuss how to leverage our work with big data with Florida Department of Transportation (FDOT), and our experience in working in this area for about seven years all laid the foundation for developing Intersect.
In March 2020, we jumped into action. We had already been thinking about the various ways to use probe data, we had the relationships with data providers, and now, we were faced with a situation where obtaining vehicular volumes became an immediate necessity to keep projects moving forward. We quickly put our heads together and formulated a process that could leverage probe data to determine intersection volumes—something that had never been done before.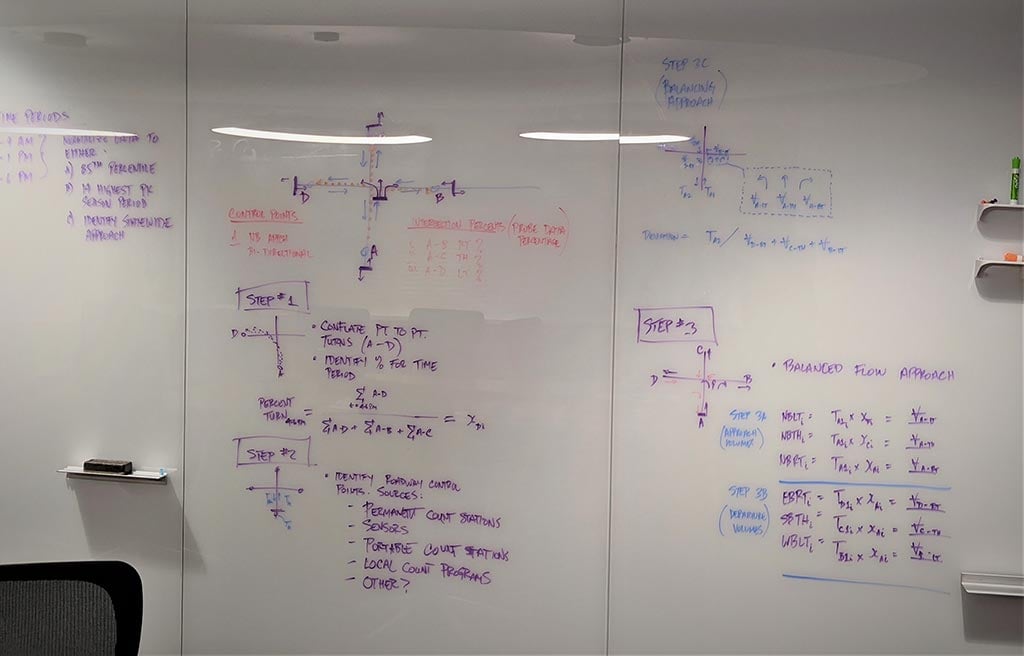 VHB: Why is traffic data so important?
Amir: Traffic volume data serves multiple needs for transportation professionals and is vital to establishing the baseline conditions for roadways and intersections. Transportation planning, operations, and design rely on traffic counts to support associated studies—traffic impact studies, long range transportation plans, corridor studies, travel demand forecasting, construction activities, signal warrant studies, etc.—which are developed to establish a benchmark to compare roadways and/or intersections. Additionally, traffic engineers leverage volume data to assess near real-time operating conditions on corridors and/or intersections. These assessments are critical to identify operational constraints, assess safety conditions, and support the maintenance of these facilities.
VHB: You mentioned the term probe data—what does that mean for Intersect?
Amir: Data has evolved over the last decade—available information has become more complex since it's more widely available, at faster speeds, and has expanded into new sources of data. Probe data can be highly accurate. With the right sample size and applying the appropriate data modifications, we have been achieving accuracy levels within a three percent variance from the control point data.
Probe data includes third-party available data obtained from connected vehicles, cellular geolocation, global positioning systems, connected vehicle technology, vehicle transponders, etc. VHB partners with probe data providers (INRIX and Wejo) to support Intersect—INRIX or Wejo aggregate anonymized data collected from cellular phones, fleet trucks, sensors from connected vehicles and devices, and other points of contact.
With Intersect, VHB can obtain probe data anytime and not have to worry about weather conditions, if schools are in session, or safety concerns. This significantly expands what we can deliver for our clients, their operational needs, and the enhanced opportunities for planning level analysis.
VHB: Where have we used Intersect for our clients?
Amir: We've used Intersect in 10 states along the East Coast, and have analyzed more than 1,500 locations for a variety of clients. Intersect has been used in (or approved for use in) Maine, Massachusetts, Rhode Island, New Hampshire, New York, Pennsylvania, Washington, DC, Virginia, North Carolina, and Florida. We have used Intersect across markets—for transportation agencies, state and local government partners, real estate developers, and institutional clients.
VHB: What's next for Intersect?
Amir: The possibilities are virtually limitless, and VHB is constantly envisioning future capabilities which could include comprehensive vehicular class breakdown, incorporation of pedestrian/bicycle information, driver behavior, and simulation of traffic flow based on real-time information.
By incorporating freight data, transit data, safety information, signal analytics, and construction-related information into a digital twin would allow Intersect to expand applications to:
Integrated/Active Corridor Management
Emergency Operations
Dynamic Curbside Management
Freight Planning & Logistics
Public Transit Operations
Traffic Management Center Operational Support
Transportation Capital/Operational Prioritization Support
For more information, contact Amir Rizavi.