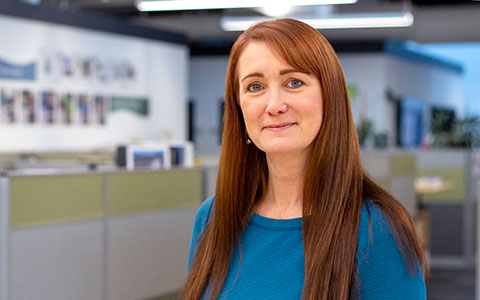 VHB welcomes Jessica Strunkin as Massachusetts State & Local Government Market Leader. In this role, Jessica will work to expand VHB's services and strengthen client relationships. Her economic development experience includes public sector, private sector, and non-profit. Jessica advocates for infrastructure investments with local, regional, and state-wide focus, and always with a goal for job growth, and business and community development in Massachusetts.
"Jessica is known for fostering collaborative and inclusive partnerships with clear communication," said Michael Regan, Managing Director of Traffic Operations at VHB. "She brings a passion for infrastructure and is excited to lead a team of driven, dedicated professionals with different areas of experience."
Jessica joins VHB from MassDevelopment where she was responsible for all day-to-day operations in Devens, coordinating the efforts of operations and real estate personnel, along with the Devens Enterprise Commission, to deliver large-scale and sustainable development projects in the community. During her tenure in Devens, Jessica oversaw the Utilities Division's project installing treatment systems to exceed both U.S. Environmental Protection Agency (EPA) and Massachusetts Department of Environmental Protection (MassDEP) regulatory standards for perfluoroalkyl and polyfluoroalkyl substances (PFAS). Prior to MassDevelopment, Jessica spent more than 10 years at the 495/MetroWest Partnership as Deputy Director where her involvement with policy, economic development and planning initiatives in the region built strong relationships with municipalities.
Jessica earned a Bachelor's degree in Political Science from Colgate University and a Master's degree in International Relations from Boston University.
Connect with Jessica via LinkedIn or email, and to learn more about VHB's work with State & Local governments.