James Madison University's (JMU) East Campus Land Bridge project won two industry awards this month – an Engineering Excellence Award from The American Council of Engineering Companies (ACEC) of Virginia, and an Honorable Mention Award through the American Public Works Association (APWA) Mid-Atlantic Chapter's Project of the Year Award category for structures $5-$25 Million. As a tunnel and bridge comprising a multi-purpose landform, the Land Bridge project enhances JMU's campus through connectivity and campus mobility. This open bottom arch structure was nominated because of its innovative approach to solving two on-campus challenges: improved access to JMU's East Campus, and what to do with a significant amount of excavated soil and fill materials from another University construction site.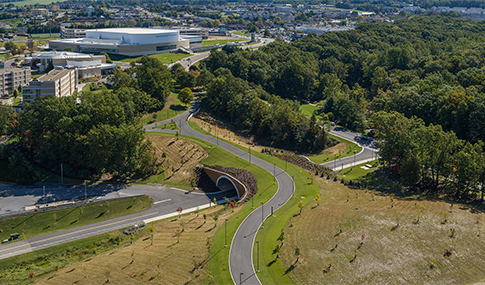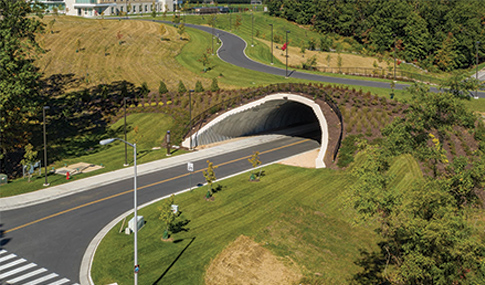 As a member of the multidisciplinary design team led by VMDO Architects, VHB developed an innovative solution to solve these two challenges by devising an inventive engineering plan to use the excess fill to create the new land bridge. More than 160,000 cubic yards of excess fill were relocated to the site to cover the 60-foot-wide by 128-foot-long bridge and bring the grade up forty feet from the existing topography. The final structure included a 20-foot-wide multi-use path located above the tunnel with planting areas on either side of the path to make it feel like a continuation of campus. Since completion, the project has greatly enhanced campus mobility opportunities and has created a new campus gateway that connects JMU's new Paul Jennings Residence Hall to the existing campus residences and newly constructed Atlantic Union Bank Center.
ACEC hosted a virtual awards ceremony on Thursday, February 4, 2021 and presented awards to recognize engineering firms for projects that demonstrate an exceptional degree of innovation, complexity, achievement, and value. APWA Mid-Atlantic is scheduled to present their awards at a future virtual ceremony and selects projects that recognize the best achievements in the Public Works profession.
VHB's Mid-Atlantic Institutions Market leader, John Stronach, virtually accepted the award recognition at the ACEC ceremony. "The JMU East Campus Land Bridge enhances multi-modal transportation on campus, contributes to a healthy community, and provides a new landmark on JMU's campus," he said. "The entire design team delivered on the project by creating an original idea and an attractive campus asset that will remain a symbol of innovative design and construction for years to come."
Since 2008, VHB has provided JMU with multidisciplinary integrated services, allowing VHB to think beyond accomplishing a single project and instead consider how it will impact the entire campus. VHB's work on JMU's campus includes the Atlantic Union Bank Center that opened in Fall 2020, Sentara Park Athletics Complex, Dukes Dining Hall, Paul Jennings Hall, and Hartman Hall College of Business.
To learn more about our experience with college campuses across the East Coast, visit our Higher Education page on VHB's website.