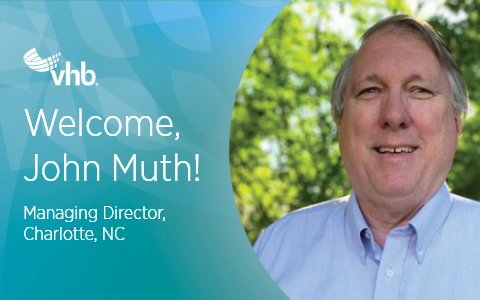 VHB is pleased to welcome John Muth, PE, as Managing Director responsible for managing our Charlotte, North Carolina, office operations.
As Managing Director, John will lead efforts to cultivate new client relationships and continue to build out a fully integrated services practice and expand VHB's presence in the metropolitan area of Charlotte. John's experience as a leader in the transit industry has led to significant successes throughout the region and we look forward to building on those accomplishments and his help in growing a diverse VHB office in Charlotte.
John's experience in the Charlotte area includes eleven-plus years at Charlotte DOT and then another 20 years at Charlotte Area Transit Systems (CATS) where he oversaw the development of $1.8 billion in infrastructure projects, including the planning, design, and implementation of 19 miles of light rail and four miles of streetcar.
"We are excited to have John's deep experience in infrastructure and strategic planning—along with his extensive understanding of the Charlotte area's transportation industry—to assist us in continuing to grow our Charlotte operation," said Nancy Barker, PWS, Mid-Atlantic Regional Manager.
John received both his bachelor's and master's degrees in Civil Engineering from West Virginia University. John's leadership and accomplishments in the industry were recognized in 2015 with the North Carolina Governor's Award for Outstanding Service to Public Transportation.