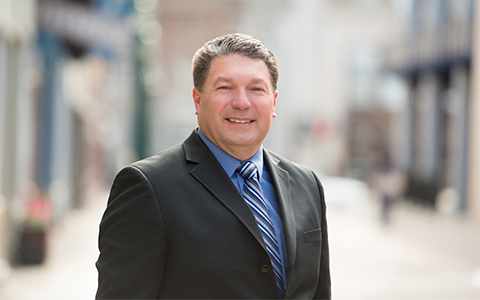 Larry Spraker, Applied Technology Manager for VHB's Northeast Region, has been elected to serve a three-year term on the New York State Geospatial Advisory Council. The Council, formerly the GIS Coordinating Body, advises and guides State agencies and employees through the New York State GIS Program to coordinate, promote and facilitate the development, effective use, and sharing of geographic information.
Larry will occupy one of two private sector representative positions that recently have been added to the Council, largely comprised of senior-level GIS professionals within the State government. His three decades of experience offers the unique perspective into what is often a misunderstood sector, sharing the impact that data-driven results can have for developments throughout the state.
"I am very thankful and extremely humbled by this nomination and look forward to collaborating with each member of the Council, many who have been colleagues in the NYS GIS community for decades and several of which were my students from my teaching days at SUNY Albany," said Larry. "Together, we'll guide policies and procedures, and assist users in effectively implementing geospatial technology that will improve the delivery of public services, protect the public and the environment, and enhance the business community throughout the State."
This appointment directly correlates with Larry's role at VHB, where he not only specializes in geospatial technologies, but is responsible for the performance of the Applied Technology Group for the Northeast region. Together, Larry and his team lead development and delivery of applied technology services to provide public- and private-sector clients in a variety of markets with data and analytics as part of the firm's integrated services approach.
Connect with Larry at lspraker@vhb.com