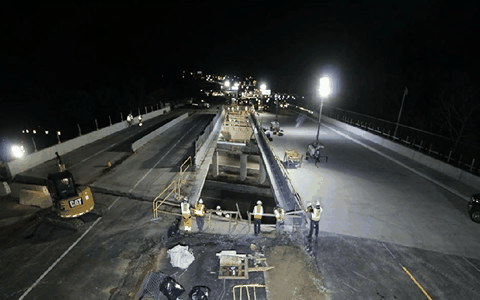 Last Friday night, under the glare of high-powered construction lighting, crews used hydraulic jacks to slide into place a new 2-million-pound replacement for the Route 44 over Route 24 Bridge in Raynham, MA. The innovative process, known as a lateral slide, had never before been used by MassDOT. Remarkably, due to the efficiency of the technique, the road below was closed for just 10 hours.

The project began in 2017, when MassDOT selected the design-build team of SPS New England and VHB to replace the heavily travelled Route 44 over 24 Bridge. VHB collaborated with SPS New England to implement the innovative accelerated bridge construction technique, which involves building half of the new bridge in a temporary alignment adjacent to the existing bridge, on temporary supports, and then using hydraulic jacks to slide it into place—saving significant construction time and improving safety for workers and the traveling public. The 166-foot-long, two-span continuous bridge superstructure required just four hydraulic strand jacks to guide it into position along temporary Teflon tracks.
MassDOT embraced the use of the lateral slide due to the high-volume roadways, proximity of wetland resources, and limited roadway width of the existing bridge. The technique enabled the project team to eliminate a full phase of construction, with estimated time savings of an entire year of construction compared to traditional phased bridge reconstruction. The approach also minimized safety concerns associated with contractors working within a middle work zone on Route 44. The temporary alignment included an overbuild of the permanent retaining walls with temporary wire walls that will be removed after the project is completed.
Design Manager Brent Richard said, "With the heavy, consistent traffic volumes along the Route 24 and Route 44 corridors, our team felt that the lateral slide was undoubtedly the best solution in terms of minimizing construction duration and traffic impacts. MassDOT's decision to embrace this innovative technique created an opportunity to improve deteriorating infrastructure while reducing impacts to roadway users. I applaud them for their willingness to depart from convention and advance best practices for bridge replacement."
Additional features of the project include improving pedestrian, bicycle, and ADA accommodations along Route 44, reconfiguring the ramp system to eliminate a dangerous weave condition on Route 24, improving the roadway drainage system, installing interim and final traffic signals, relocating utilities, eliminating existing piers in anticipation of future widening of Route 24, and raising the vertical clearance below the bridge.
To learn more about this ground-breaking project, connect with Design Manager Brent Richard.