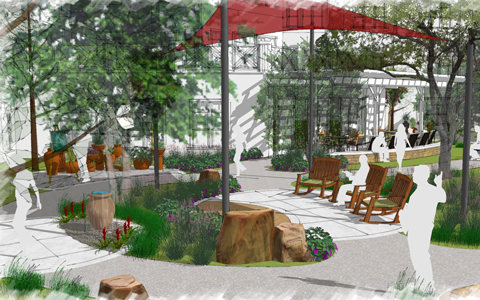 The Mayflower Retirement Community in Winter Park—one of Florida's top-rated long-term care communities—recently partnered with VHB to help grow its campus to better serve residents, especially those with dementia related diagnoses. Florida is home to more than 510,000 elderly residents who have been diagnosed with the most common type of dementia—Alzheimer's disease. Memory care is an important element of the Mayflower's expansion, which broke ground this spring.
The significant expansion includes a new skilled nursing facility, residential villas for independent living, and a dedicated Memory Care Facility and Garden. VHB is providing a range of environmental, landscape planning, and engineering services for the project that emphasize healthy community planning and on-campus care for residents with dementia-related conditions through all stages of their health.
VHB has been a trusted partner of the Mayflower Retirement Community for more than 15 years, and its comprehensive knowledge of the site was instrumental in helping the client consider all development needs from the outset, including assessing eight acres of wetlands and navigating zoning requirements to minimize impacts on natural resources. VHB's experience with stakeholder engagement, earthwork improvements, and stormwater management gave the project the push it needed to move forward, including identifying and solving long-standing drainage issues for residents in the adjacent neighborhood.
On campus, VHB landscape architects are working with the Mayflower to plan improvements for patients with dementia, and a Memory Care Garden for residents in new Memory Care housing will be a significant community feature.
"We can't wait for residents to see the Mayflower Memory Care Garden. It will be an interactive, activity-based garden that engages all five senses that residents and their families will want to visit," said Shawn Tofte, VHB Landscape Architect. "Some important memory care landscape design elements we are incorporating include elevating opportunities to reminisce, providing safe spaces to wander, and emphasizing the sense of smell, which research shows is closely tied to memory."
The Garden landscape will encourage residents to engage via:
Raised vegetable garden beds with potting benches for potting plants and picking herbs that can be incorporated in future meals.
A variety of different seating options, including a sandy area for residents to walk barefoot and a great lawn for watching movies outdoors with grandchildren.
A pollinator garden to attract butterflies and citrus trees where residents are encouraged to pick fruit.
A trellised area provides additional shade opportunities and a structure for fragrant climbing roses.
"Memory care residents previously had to leave campus to access important treatments, which can be burdensome to patients and caregivers," said Joe Kolb, VHB Regional Real Estate Services Director. "With a dedicated memory care facility and beautiful care garden on campus they can keep that continuum of care at home where residents feel most secure, active, and independent."
In addition to the memory care expansion, VHB's decades-long relationships with the Mayflower Retirement Community has resulted in the company being instrumental in all site improvement projects, including a new two-story healthcare unit and parking expansion. Learn more about partnering with VHB's real estate team.